Information in Ukrainian and Russian on supports for victims/survivors of sexual violence
31 May 2022
---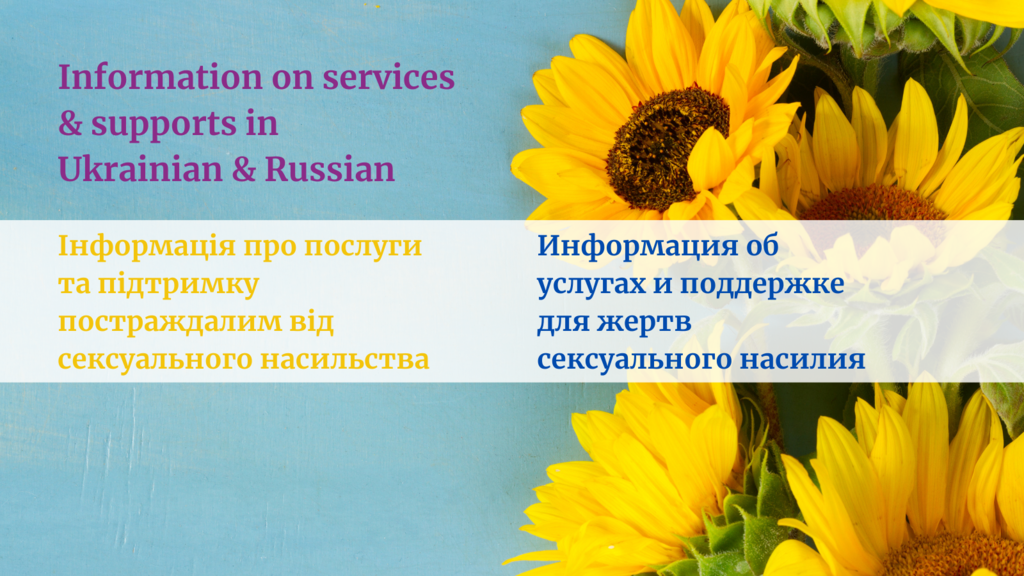 Dublin Rape Crisis Centre is a charity that aims to prevent the harm and heal the trauma of sexual violence in Ireland. DRCC offers a number of services that can help those arriving in Ireland after fleeing conflict in Ukraine. You can read this below or you can download this information in Ukrainian and Russian above.
We operate the National 24-hour Helpline 1800778888. This is a listening and support service for anyone who has been affected by sexual violence, whether recent or in the past. It is free and confidential. It is also available for people supporting survivors, like friends, families or frontline workers, who need guidance on how to help or who may feel traumatised themselves. We do not record our calls and we do not pass on any information, except where the law requires it for child protection.
You can telephone the National Helpline at 1800 77 8888, at any time of day or night (NOTE: outside of office hours, the line is only able to provide help in English). You can email us at counselling@rcc.ie.
For those who do not speak English, we offer an interpreting service on the helpline, Monday-Friday (except public holidays), from 8am to 6.30pm. This provides direct interpretation in more than 200 languages, including Ukranian and Russian, over the telephone.
| | |
| --- | --- |
| | |
If you speak English, you can also use our webchat support service, Monday to Friday, 10am to 2pm.
We have some basic information resources aimed at helping survivors to cope with trauma, which may be useful, including one describing impacts of sexual violence, a video on how trauma affects the brain, one on grounding exercises to help cope with anxiety and other trauma symptoms, and others on coping with nightmares and panic attacks. These are in English but you may be able to use the Google translate option.
For people in the wider Dublin area and surrounding counties, we offer a survivor accompaniment service. A trained Accompaniment Support Worker can support you at the Sexual Assault Treatment Unit in the Rotunda Hospital, or with reporting a sexual offence to police and attending court.
We will listen, we will support you and we will believe you.
Other sources of support & care
Rape Crisis Centres: A rape crisis centre is a safe space where you can find help to heal from trauma after sexual violence of all kinds, including rape, sexual assault, sexual harassment or childhood sexual abuse. This includes counselling and therapy, as well as practical and crisis support, care and information in seeking recovery, healthcare and justice. DRCC is one of 16 rape crisis centres around Ireland. Our office is in Dublin. If you need to access a centre in other locations, you can see a full list. Another website with information and advice for survivors is RapeCrisisHelp.
Children: For children affected by sexual violence, you can contact CARI – visit https://www.cari.ie/ or call the CARI Care Line at 0818 924567, Mon-Fri, 9am to 5pm (English only).
Sexual Assult Treatment Units (SATU): A Sexual Assault Treatment Unit (SATU) is a safe, free and confidential place to go if you have been raped or sexually assaulted. It can help anyone who has had unwanted sexual contact of any kind, by providing specialist medical assistance following sexual assault or rape. SATU support is available 24 hours a day, 7 days a week, 365 days a year, in 6 locations across Ireland. To learn more, visit the SATU website (information in Ukrainian and Russian also available).
(Thanks to Olesya & Department of Equality for help with translation and to Nataliia for brilliant edits!)