Vacancies
Background information & values for staff and volunteer roles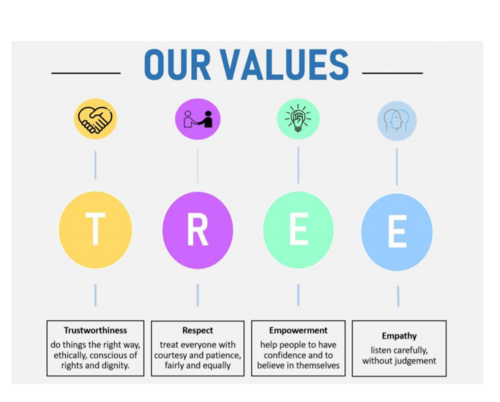 Dublin Rape Crisis Centre (DRCC) has a twofold mission: to prevent the harm and heal the trauma of all forms of sexual violence in Ireland. DRCC provides therapeutic and first response services through the National 24/7 Helpline, face-to-face therapy and a developing online counselling programme. It provides accompaniment and support to those who attend the Rotunda Sexual Assault Treatment Unit, Garda Stations, and the Courts. In addition, it offers education and training programmes for a wide variety of professionals and volunteers who work with those who have experienced sexual violence.
DRCC is currently hiring:
Adolescent / Adult / Group Psychotherapists
Location: Dublin 2 (on-site)
[posted 03 Mar 2023]
The Role:
DRCC is excited to expand our therapy team and is inviting applications from Therapists qualified and having experience in working with Adults, Adolescents or Groups.
Providing face-to-face counselling and psychotherapy to those who have experienced childhood sexual abuse, recent or past rape and or sexual assault on a flexible three, four or five day contract, Monday to Saturday inclusive.
Successful candidates must hold a minimum degree qualification in adult or adolescent psychotherapy as applicable. Applicants must be fully accredited at the time of application with either IAHIP, IACP, BACP, or other modalities of ICP.
If you have the requirements we need and a passion for providing high quality integrative psychotherapy and a desire to work in a dynamic organisation, committed to making a difference for those who have been affected by sexual violence, we would love to hear from you!
To find out more about our flexible contracts and competitive compensation package, please contact our HR Manager, naomi.patton@rcc.ie
Application form: Please download the application form here.
Application details: Please email recruitment@rcc.ie with your cover letter and completed application form along with your most up to date CV. Please insert Adolescent/Adult Psychotherapist in the subject line of your email.
DRCC is an equal opportunities employer; we welcome applications from people of diverse backgrounds and abilities. We are committed to providing reasonable accommodations for applicants and employees with a disability. Should you have a reasonable accommodation request and you wish to discuss please contact Naomi Patton, HR Manager @ 01 6614911 or recruitment@rcc.ie
---
Follow us on Twitter, Facebook, Instagram or LinkedIn for regular updates
Volunteering with Dublin Rape Crisis Centre
We recruit volunteers to support our telephone counselling and accompaniment services at various intervals throughout the year. Volunteers are a vital part of our mission to heal the trauma of sexual violence and we rely heavily on their dedication and commitment. No prior experience is needed, we provide full training and expert support.
Volunteering Expression of Interest
Please fill our our volunteer application form to be contacted during our next volunteer intake.
You can also email us with any queries, or telephone us at 01-661 4911.