Welcome for new in-depth data on adult experience of sexual violence
18 May 2023
---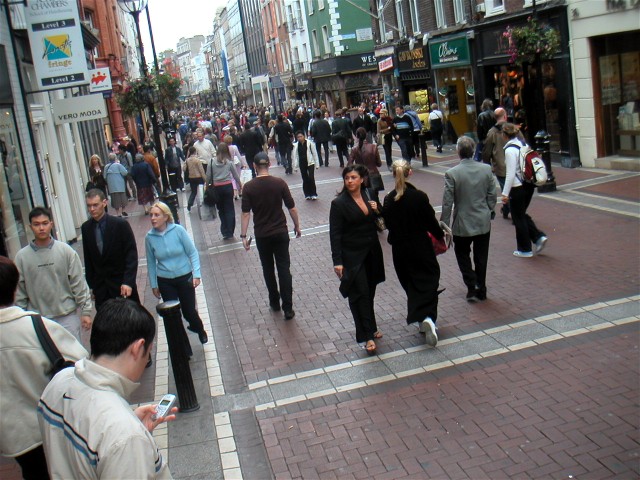 Comprehensive information on the prevalence of sexual violence in Ireland experienced as adults will help to further dispel myths around where such violence happens and who perpetrates it, according to Dublin Rape Crisis Centre, welcoming a new release from the Central Statistics Office today (Thursday).
Following the main Sexual Violence Survey in mid-April, the CSO today put a spotlight on data related to sexual violence experienced as adults. That main survey published on 19 April had showed 40% of population had experienced sexual violence at some stage in their lives, of which 26% as an adult.
DRCC's Policy Manager Shirley Scott said "Today's release builds on last month's general findings to give us a further picture of how people in Ireland are impacted by the epidemic of sexual violence. While this accords with what we know from our work in the Centre, it is really helpful to have this objective research which shows how far we have yet to travel to eliminate tolerance of sexual violence."
She noted the level of intimate partner sexual violence, with one in four women and 6% of men experiencing sexual violence by a partner. Some 34% of females were assaulted in their home or the home of another person, while for males the figure was 27%.
Of those who had experienced sexual violence as an adult, some 9% had been assaulted in the previous 12 months. This indicates that each year there may be 2-3 percent of the overall population who experience sexual violence, which over time must lead to very worrying levels of trauma nationally, Ms Scott noted.
This figure was even higher for those aged 18 to 34 years, where some 30% had experienced sexual violence within the preceding year. Ms Scott warned that this signalled a clear need to educate younger people around what is acceptable behaviour in sexual relationships and encounters. "We are hearing about young people subjected to and carrying out abusive behaviour, that more younger people are attending Sexual Assault Treatment Units, are seeking therapy and counselling, and other support, and that the abuses are being carried out by other young people.
"This underlines the need to continue innovative third-level programmes around healthy relationships and understanding consent, and to build new and age-appropriate programmes at second level if we are to ensure that young people understand basic concepts in time. It is very welcome therefore to see that an updated Junior Cycle SPHE programme will be rolled out from this September, with the Senior Cycle to follow shortly afterwards," said Ms Scott.
Ms Scott also said it was very important to have new and rigorous data to show that those with disabilities are more vulnerable to sexual violence, as are those who are economically dependent and those who are bisexual and gay/lesbian, where the figures are significantly greater than among the general population.
DRCC once again acknowledged the immense work of the Central Statistics Office in producing this report, and reminded anyone affected that the 24-hour National Helpline offers free confidential support at 1800 778888.
Comprehensive information on options is also available online at drcc.ie/fyw
/ENDS
Notes for editors:
Dublin Rape Crisis Centre is a non-governmental, voluntary organisation which has as its mission to prevent the harm and heal the trauma of rape. It offers a suite of services to victims/survivors of sexual violence. It also offers a wide range of training and education to professionals and volunteers.
DRCC operates the National 24-hour Helpline 1800 778888 to support anyone affected by sexual violence in any part of the country. A webchat support service is available online at drcc.ie Mon-Fri, 10am-5pm. A Helpline Interpreting Service is available for those who do not speak English - more at https://bit.ly/DRCClang
For those contacting the Helpline who are deaf or hard of hearing, we provide a text service, operating Mon-Fri from 8am to 6:30pm, at 086-8238443 and we also have a webchat service available Monday-Friday, 10am to 5pm, except holidays.
Information on your options after sexual violence is available for free online at any time at www.drcc.ie/fyw in the Finding Your Way after Sexual Violence guide.
DRCC offers counselling & therapy to adult survivors of sexual violence and to older adolescents from 16 years of age with parental/guardian consent.
We provide accompaniment support for the Rotunda Sexual Assault Treatment Unit, to court or to Garda stations to people in Dublin and in surrounding areas, by arrangement.
We have outreach offices at Coolock, Dóchas Women's Centre, Balbriggan & Tallaght. Access to these services must be arranged via the National Helpline 1800 778888 during working hours, Mon-Fri.
3. We ask that when reporting on this topic, journalists should remember that discussions on sexual violence can trigger personal trauma in those receiving the information. Where possible, please make reference to the National 24-hour Helpline 1800 77 88 88 for anyone who may be affected by the discussion.