We-Speak is launched
13 June 2023
---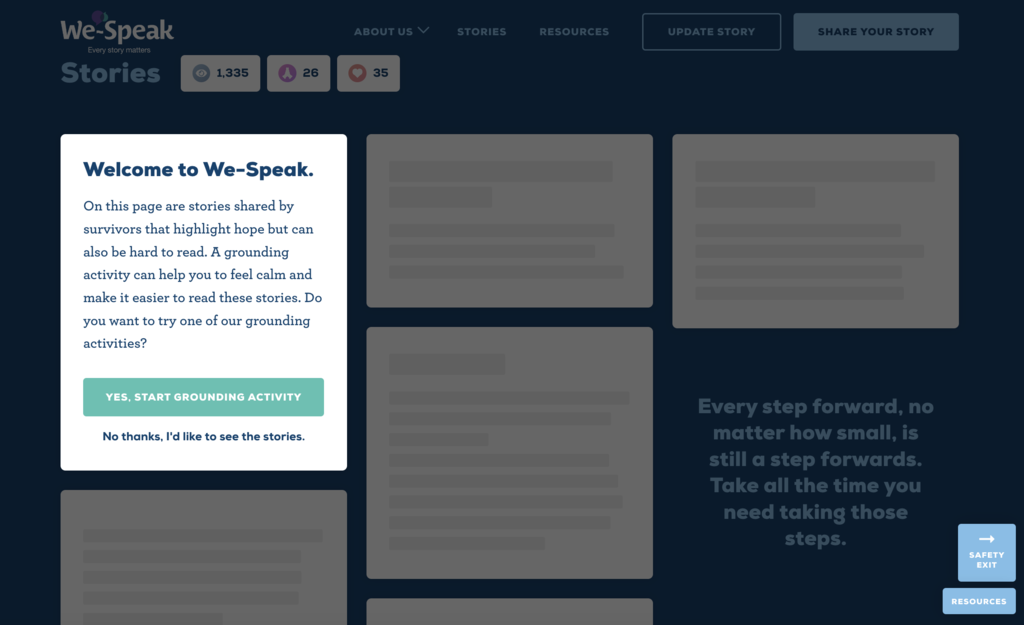 52% of women and 28% of men in Ireland have been victims of sexual violence.
78% of adults who have experienced sexual violence were raped or assaulted by someone they knew.
Only 53% of women and 34% of men who experienced sexual violence in their lifetime told someone about it.
Dublin Rape Crisis Centre (DRCC) has today launched We-Speak, the first-ever anonymous online platform in Ireland, that aims to empower survivors of sexual violence to safely tell their own stories, in their own time, in their own words. The platform seeks to amplify the voice of survivors, offering a space for them to reclaim their narrative to themselves honestly and share valuable advice and encouragement with others.
We-Speak follows the launch of We-Consent, a three-year campaign which aims to ignite an open and meaningful conversation about sex. DRCC wants to progress the conversation started by We-Consent and utilise the We-Speak platform to give voice to the broad variety of experiences which are often silenced. DRCC is reiterating that even if you have never spoken out about your trauma, you are not alone.
Speaking about the platform, Sarah Monaghan, We-Consent Project Manager, DRCC said:
"I am delighted that the We-Speak platform is up and running, offering a safe place for all victims and survivors to share their stories. For too long, many survivors of sexual violence have suffered in silence. We-Speak empowers them to share their stories anonymously and honestly, but also safely. DRCC has consistently recognised the need for a platform like this for survivors to share their stories, offering an alternative to social media, where ultimately, there is no protection.
"The launch of this platform not only marks significant progress for survivors of sexual violence in Ireland, but also sees Ireland take a step forward in terms of how we are combating this issue collectively. The sharing of survivors' personal stories can drive the shift from people knowing about the issue of sexual violence to people caring about it. I am hopeful that We-Speak will play a part in driving real change when it comes to both facing the reality of the impact of sexual violence and how we as a society can do better. I believe that stories are powerful and can build awareness, cultivate empathy, and ultimately create change."
We-Speak will also serve to highlight the prevalence of sexual assault in Ireland. It is hoped that by gathering this data, we can contribute to establishing a clearer picture of people's experiences of sexual violence which will assist us in the future prevention of sexual violence.
For the development of We-Speak, DRCC has worked in consultation with Our Wave, a US Based platform that launched a similar platform in 2019. Applying Our Wave's expertise in both web development and trauma, the platform is custom-built, secure and encrypted to allow for complete anonymity, while considering triggers and other sensitivities in the process.
On entering the site, you are encouraged to complete a grounding exercise to support users in centering their own self-care before they submit a story or read the stories of others. Support for stories can be shared through a series of "reactions". These reactions are non-hierarchal and all positive. It is possible for users to return to their stories to update or delete, giving them complete ownership and allowing them to add to their story days, weeks or even months after initially publishing. Supporters can also submit messages of support and empathy for those who visit the site.
Advocate for We-Speak and Survivor of Sexual Violence, Charlene Masterson said:
"I am so excited to see the launch of 'We-Speak. During my 7+ years of sexual abuse, I thought no one knows how I feel, no one has ever gone through this - it's such an isolating feeling not being able to find people to relate to, especially in such horrific circumstances. Sadly, people experience it every day, and to be able to read those stories and realise you're not alone is one thing that's priceless to victims/survivors like me. Although I don't think anyone ever fully heals from sexual violence, I have learned that talking to likeminded people or reading their stories is such an incredible tool during my healing journey."
The We-Speak platform is now publicly available at https://www.wespeak.ie/.
The We-Consent campaign will run for the next three years with workshops and communication initiatives planned nationally to help inform and engage the population. Visit We-Consent.ie for more information and resources.
We-Consent is a project of Dublin Rape Crisis Centre.
If you have been impacted by the conversations being raised by the We-Consent Campaign, or by an experience in your life or in the life of someone close to you, please call the Freephone 24-Hour National Helpline on 1800 77 8888
ENDS
Additional Information:
CSO Sexual Violence Survey 2022
According to the sexual violence survey 2022, conducted by the Central Statistics Office:
The majority of adults (78%) who experienced sexual violence at least once in their lifetime knew the perpetrator, with very little difference between women (79%) and men (75%).
About half of adults (47%) who experienced sexual violence in their lifetime told someone about it, with disclosure more likely if the experience was with a nonpartner-only (55%) than with a partner-only (16%). Women who experienced sexual violence in their lifetime were more likely to have told someone (53%) compared with men (34%).
The proportion of adults who experienced sexual violence in their lifetime was 40%, with higher levels for women (52%) compared with men (28%).
About the We-Speak Platform:
We-Speak is custom-built, secure and encrypted to allow for complete anonymity, while considering triggers and other sensitivities in the process.
The story-sharing process is straightforward and clearly guided. The user is prompted through several stages including a grounding exercise and specific story prompts such as: "what helped you heal?" or "what do you wish you could say to other survivors?".
When a story is submitted, it is reviewed by the trained moderation team in DRCC. This team has been specifically trained to ensure all stories that become public are safe and entirely anonymous and that all identifiable information has been redacted. There are policies and procedures to guide this.
There is no ability to "comment" on a story. This is to ensure that trolling/bullying is not tolerated.
About We-Consent:
We - Consent is a long-term national campaign to inform, educate and engage with all members of society about consent.
This campaign is igniting an open and meaningful conversation about sex and relationships and building a greater understanding of consent.
This is the first national campaign and among the first globally, focused on driving a cultural shift around the practice of consent targeted across all age groups in Ireland.