Stellar line up looks at representation of sexual violence and consent in TV, film & literature for Culture Night 2023
22 September 2023
---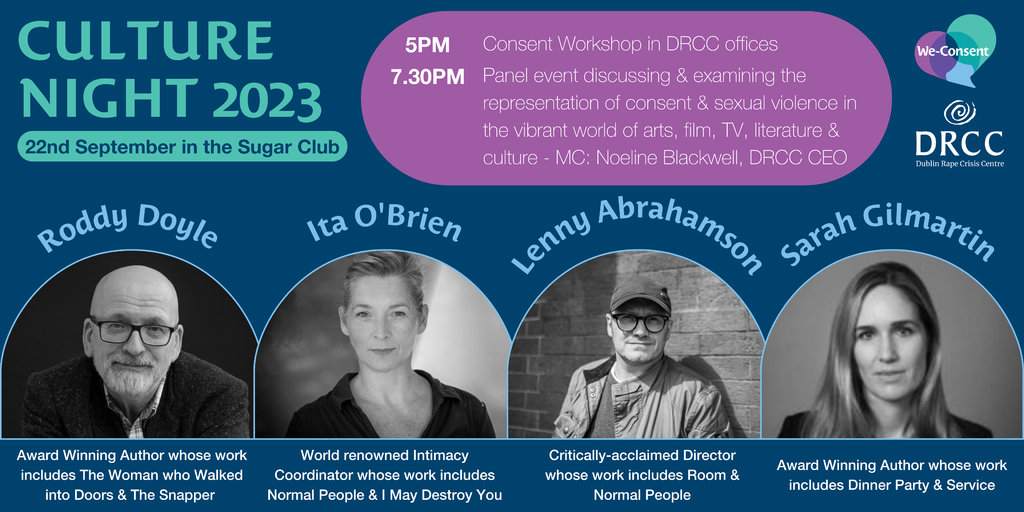 World-renowned figures in literature & film are taking to the stage in Dublin's Sugar Club on Friday (22 Sep 2023) to examine how consent and sexual violence are represented in arts and culture, in conjunction with Dublin Rape Crisis Centre's We-Consent campaign and as part of Culture Night 2023.
Authors Roddy Doyle and Sarah Gilmartin, Director Lenny Abrahamson and Intimacy Coordinator Ita O'Brien will be led in conversation by DRCC's CEO, Noeline Blackwell.
Speaking ahead of the event, Roddy Doyle said "In 1994, when FAMILY, a TV series that I'd written, was broadcast, depicting a man's brutality towards his wife and children, I received hate mail and death threats; I was condemned by some politicians and from the pulpit. Times have changed since then - but how have they changed? I'm really looking forward to the Culture Night discussion."
Sarah Gilmartin added: "As the current news agenda highlights, we have a long way to go to redress the balance when it comes to issues of sexual assault and consent in our supposedly modern world, and to dismantle the broader culture that breeds the conditions for these things to happen. Since #MeToo, there is undoubtedly more awareness of power dynamics and how positions of power come to be abused, but these are continual, constant, everyday issues in society and the more we talk about them, the more open we are about them, the easier it is to spot them, and to stop them."
The panel will discuss the history, evolution, challenge and importance of representing themes of consent, sexual violence, power imbalance, gendered stereotypes and cultural misconceptions in their work. They will debate the importance of working to advance the conversation and the safety of all involved in the arts industry - either directly as creators or as the public who consume such works.
Ita O'Brien explained: "In our art it is important to show and reflect all parts of our human experience, both the aspects of humanity that are loving and those which are violent. It is important, as the makers of the art, that we are aware and take responsibility for how the work is created, the culture within the industry, and then the impact these images created have on the world at large. I look forward to opening out this discussion."
CEO of Dublin Rape Crisis Centre Noeline Blackwell commented that "These distinguished voices in literature and film bring invaluable perspectives to the table and it is a special privilege to have them here with us on Culture Night. We are delighted to bring a unique and thought-provoking perspective to this night of culture and hope that our discussions pave the way for a more inclusive creative industry, ensuring that stories are told with empathy, respect, and authenticity.
We in Ireland are so proud of our arts and cultural heritage in Ireland, of our cherished tradition of reflecting society through writing and drama, dance and song. It is vital that the stories and lives of those impacted by sexual violence are included in this process. And equally, that our artists and writers can use their talents to capture changes in society and help create together the safer, more equal future we want to see."
This sold-out event takes place in the Sugar Club from 7:30pm.
Anyone affected by sexual violence can contact the 24-hour National Helpline for free, non-judgmental and confidential support at 1800 778888, at any time.
Comprehensive information on options for survivors is also available online at drcc.ie/fyw
/ENDS
---
Notes for editors:  
1. This event is part of Culture Night Dublin 2023 and supported by WeAct. It takes place in the Sugar Club on Leeson Street from 7:30pm. Tickets are sold out but interested media can contact the DRCC team.
2. Dublin Rape Crisis Centre is a non-governmental, voluntary organisation which has as its mission to prevent the harm and heal the trauma of rape. It offers a suite of services to victims/survivors of sexual violence. It also offers a wide range of training and education to professionals and volunteers.  More at https://www.drcc.ie
3. We-Consent is a new long-term national programme to inform, educate and engage with all members of our society about consent. More information and resources on having consent conversations at https://www.we-consent.ie/
4. Other DRCC services and work:
DRCC operates the National 24-hour Helpline 1800 778888 to support anyone affected by sexual violence in any part of the country. A webchat support service is available online at drcc.ie Mon-Fri, 10am-5pm. A Helpline Interpreting Service is available for those who do not speak English - more at https://bit.ly/DRCClang
For those contacting the Helpline who are deaf or hard of hearing, we provide a text service, operating Mon-Fri from 8am to 6:30pm, at 086-8238443 and we also have a webchat service available Monday-Friday, 10am to 5pm, except holidays.
Information on your options after sexual violence is available for free online at any time at www.drcc.ie/fyw in the Finding Your Way after Sexual Violence guide.
DRCC offers counselling & therapy to adult survivors of sexual violence and to older adolescents from 16 years of age with parental/guardian consent.
We provide accompaniment support for the Rotunda Sexual Assault Treatment Unit, to court or to Garda stations to people in Dublin and in surrounding areas, by arrangement.   
We have outreach offices at Coolock, Dóchas Women's Centre, Balbriggan & Tallaght. Access to these services must be arranged via the National Helpline 1800 778888 during working hours, Mon-Fri.   
5. We ask that when reporting on this topic, journalists should remember that discussions on sexual violence can trigger personal trauma in those receiving the information. Where possible, please make reference to the National 24-hour Helpline 1800 77 88 88 for anyone who may be affected by the discussion.