Culture Night 2023
22 September 2023, 5:00pm - 9:00pm
---
Representation of Consent & Sexual Violence in Arts & Culture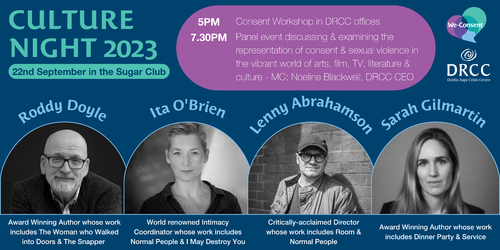 Dublin Rape Crisis Centre are delighted to present an evening dedicated to the discussion and examination of the representation of consent and sexual violence in the vibrant world of arts, film, TV, literature and culture.
The evening will kick off at 5pm in DRCC's Leeson Street Office with a Conversation on Consent Workshop where attendees can hone their skills in having vital conversations with those around them.
For our main event, we will host a vibrant panel event at 7.30pm in the Sugar Club featuring the following high profile guests who will discuss the history, the evolution, the challenges, and the importance of representing the important themes of consent, sexual violence, power imbalance, gendered stereotypes and cultural misconceptions in their work. They will discuss the importance of working to advance the conversation and the safety of all involved in the arts industry - either directly as creators or as consumers within the general public.
We will hear from;
Roddy Doyle - Award Winning Author whose work includes The Woman who Walked into Doors & The Snapper
Ita O'Brien - World renowned Intimacy Coordinator whose work includes Normal People & I May Destroy You
Lenny Abrahamson - Critically-acclaimed Director whose work includes Room & Normal People
Sarah Gilmartin - Award Winning Author whose work includes Dinner Party & Service
The conversation will be lead by DRCC CEO, Noeline Blackwell, before opening up the audience for questions. We will end what promises to be a fascinating the night with a musical guest, Toshín!
---
dublin rape crisis