Review of systemic abuses in Defence Forces welcome but strong, swift action needed  
28 March 2023
---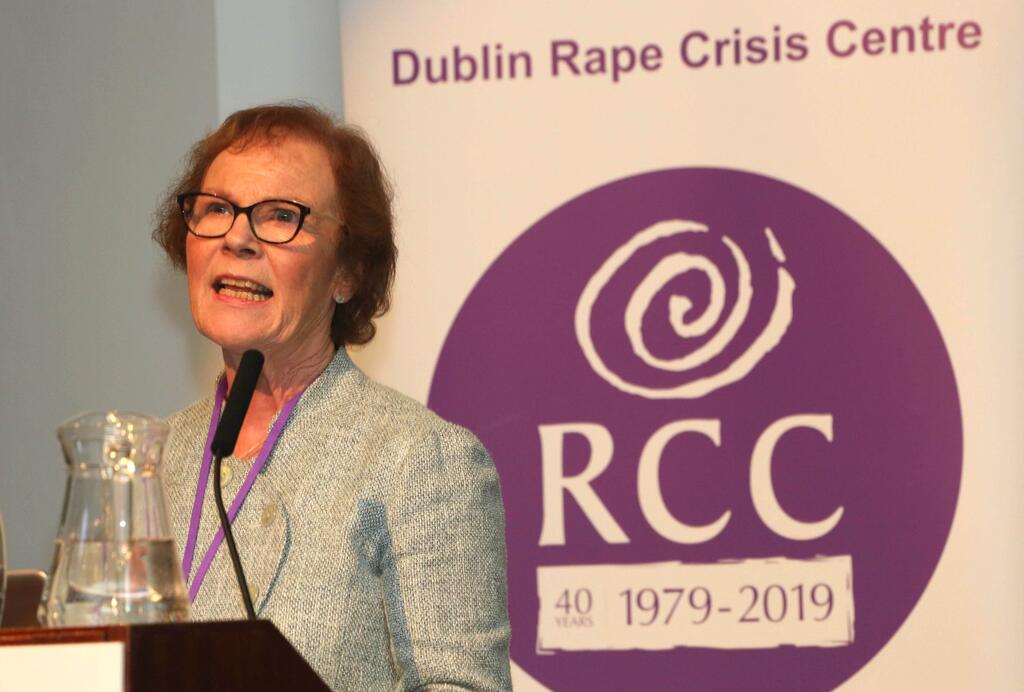 Dublin Rape Crisis Centre has said a review published today (Tuesday 28 March) into systematic abuses within the Irish Defence Forces was, from first accounts, a welcome recognition of a clear, long-standing and grave failure to protect those working in the Defence Forces, particularly women, and that a suite of measures it recommends to address this deficit must be implemented immediately and with adequate resourcing.
DRCC's Chief Executive Officer Noeline Blackwell said "Preliminary accounts of the Report of the Independent Review Group examining dignity and equality in the Defence Forces plainly describe a serious failure over a long time to protect those who work within our Defence Forces. In particular, the report highlights how women were, shockingly, portrayed as 'barely tolerated'. It is a real sadness to know that those who have given sterling service to the State at home and abroad had to work in conditions that - either potentially or actually - were appallingly unsafe and abusive."
DRCC said the reaction of the Government, as relayed by An Tánaiste and Minister for Defence Micheál Martin TD, was welcome. His statement today shows the government has accepted that the behaviour, discrimination and sexual misconduct described in the report forms a distinct and unacceptable pattern. In setting up the Independent Review Group, and accepting its findings, the Government had made a good start in addressing a very troubling situation in a core public institution.
Ms Blackwell said the three-pronged plan - to set up an enquiry, to reform systems for complaints and to address an unacceptable culture - were all essential and must proceed quickly and be adequately resourced.
She stressed that this this issue must also continue to be a government priority as part of the national strategy of zero tolerance of domestic sexual and gender based violence, published by the Dept. of Justice last June on the direction of government.
"It is simply not acceptable that the sexual misbehaviour, discrimination and abuse detailed in the report would continue in any shape or form anywhere, but particularly in a public institution whose members exist and work to keep our nation safe and free from harm,", concluded Ms Blackwell.
"Those upholding the safety and dignity of so many others at the very least deserve to have their dignity and safety also recognised, protected and respected, and justice to be served for any past offences."
/ENDS
***
Notes for editors:
The Independent Review Group report is available on the Department website.
The Department of Defence sets out a range of dedicated supports for anyone affected by issues in the review and for victims & survivors of abuses within the Defence Forces in its press release, as well as the free 24-hour National Rape Crisis Helpline 1800778888.
Dublin Rape Crisis Centre is a non-governmental, voluntary organisation which has as its mission to prevent the harm and heal the trauma of rape. It offers a suite of services to victims/survivors of sexual violence. It also offers a wide range of training and education to professionals and volunteers.
DRCC operates the National 24-hour Helpline 1800 778888 to support anyone affected by sexual violence in any part of the country. A webchat support service is available online at drcc.ie Mon-Fri, 10am-5pm. A Helpline Interpreting Service is available for those who do not speak English - more at https://bit.ly/DRCClang
For those contacting the Helpline who are deaf or hard of hearing, we provide a text service, operating Mon-Fri from 8am to 6:30pm, at 086-8238443 and we also have a webchat service available Monday-Friday, 10am to 5pm, except holidays.
DRCC offers counselling & therapy to adult survivors of sexual violence and to older adolescents from 16 years of age with parental/guardian consent.
We provide accompaniment support for the Rotunda Sexual Assault Treatment Unit, to court or to Garda stations to people in Dublin and in surrounding areas, by arrangement.
We have outreach offices at Coolock, Dóchas Women's Centre, Balbriggan & Tallaght. Access to these services must be arranged via the National Helpline 1800 778888 during working hours, Mon-Fri.
We ask that when reporting on this topic, journalists should remember that discussions on sexual violence can trigger personal trauma in those receiving the information. Where possible, please make reference to the National 24-hour Helpline 1800 77 88 88 for anyone who may be affected by the report.