Press Release: DRCC Launch 2019 Annual Report
07 September 2020
---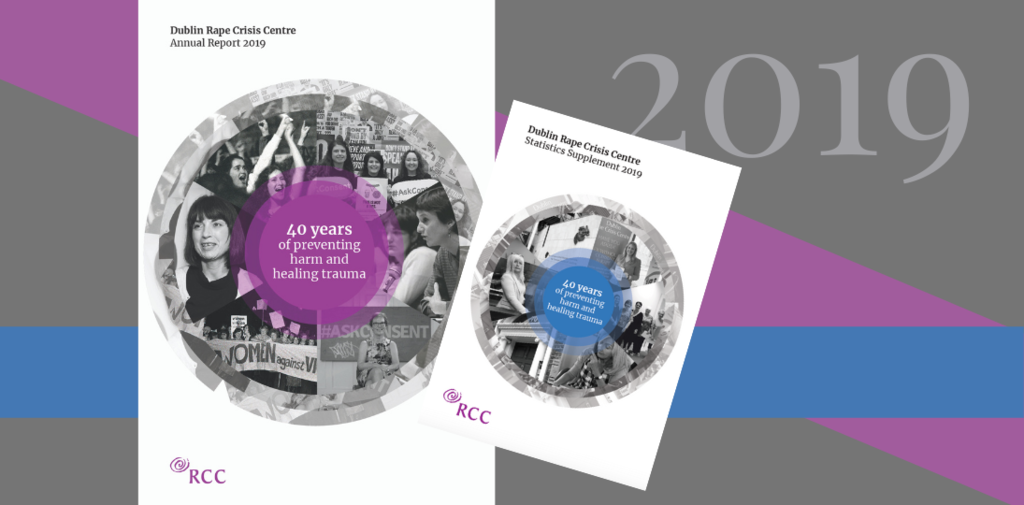 Dublin Rape Crisis Centre launches annual report for 2019
Callers seeking support from National Helpline increase again to over 14,000
New webchat service initiated amid higher demand for help
COVID crisis sees prioritisation of sexual violence services, but increased anxiety & isolation among callers and drop in DRCC funds
The Dublin Rape Crisis Centre (DRCC) today, Monday, releases its annual report and statistics supplement for 2019, with a virtual launch by Minister for Justice Helen McEntee at 3:30pm.
The report shows a continued growth in people seeking supports across all its services. There were 14,159 total contacts to the National Helpline, up almost 6% over 2018. The number of those seeking therapy and counselling from DRCC also grew to 617 clients in 2019. Some 300 people were directly supported in attending the Sexual Assault Treatment Unit following rape or sexual assault, as well as 240 of their friends and family members. DRCC reports a stark increase in those seeking its accompaniment through the criminal justice system of 118% over 2018.
Noting the general surge in demand for supports, DRCC CEO Noeline Blackwell referenced DRCC's expanded justice system accompaniment service as a key support for people on what is often a very difficult path through the criminal justice system. "We have to underline again what a lonely place the justice system is for those who report sexual offences. While we are glad to support as many as we can, our support, dependent on the public fundraising resources we can bring to it, is no substitute for adequate structured supports for victims of these most intimate of crimes." She said that the Centre was glad to see the publication of the so-called O'Malley report including recommendations for change in August 2020.
Speaking ahead of the launch, Minister for Justice Helen McEntee TD said: "The Dublin Rape Crisis Centre Annual Report 2019 vividly illustrates the significant problem of sexual violence we still face in Ireland. I recently launched the O'Malley 'Review of Protections for Vulnerable Witnesses in the Investigation and Prosecution of Sexual Offences' and my Department is now developing a comprehensive implementation plan for it. I am committed to urgent action, to deliver real and significant improvements – not only in relation to the treatment of victims in the justice system, but also in broader societal attitudes and prevention of sexual violence.
"I must also pay tribute to the staff and many dedicated volunteers of the Dublin Rape Crisis Centre. The services provided by Dublin Rape Crisis Centre are vital and all of society owes it a debt of gratitude for its ongoing work."
DRCC Chairperson Ann Marie Gill recalled that 2019 had been DRCC's 40th anniversary year. "Last year we marked four decades of our mission to heal the trauma and prevent the harm of sexual violence. At our anniversary conference, we heard from some of our founders, from staff and volunteers and from the various groups we work with. One of the biggest issues emerging from that event and throughout 2019 was the serious need for a better understanding of sexual consent in our society. Consent is very much on DRCC's agenda in 2020 and beyond, with a focus on the attitude and behavioural perspective across all of society," said Ms Gill.
Ms Blackwell warned of increased pressure on services exacerbated by income drop. "Our difficulty is that our public fundraising has fallen off a cliff. Our normal cycle of fundraising events is at a standstill since March 2020 following COVID 19 restrictions. We are glad that both the Department of Justice and Tusla recognised sexual violence support services as priority services and continued their support for 2020. However, we are highlighting now that as restrictions have eased, there has been a significant surge in demand, putting our services under unprecedented pressure. It will be essential that we can continue and even expand our work to cope with that surge as we face into the winter and into 2021," she explained.
Given rising need, Ms Blackwell said that DRCC was working very hard to maintain existing services as well as to innovate and develop new solutions that could reach the growing numbers. The organisation in 2019 expanded its work on prevention, designing new youth programmes, providing 120 training days for more than 1600 people across a range of programmes, and engaging in a variety of awareness-raising and policy work aimed at improving systems and structures.
In 2019, DRCC developed an on-line counselling support called Moving Forward from Sexual Violence which began operations in early 2020. DRCC also announced today a new website, including a webchat service that allows people to get online text support from a Helpline counsellor.
"We are always looking for ways to enhance our existing services for people who need support and to reach those who cannot or will not use our existing services. Moving Forward has already benefitted 60 people in this, its pilot year of operation. Our new webchat allows us to support people online who may not yet feel comfortable making a voice call to the National Helpline or engaging with therapy or counselling," explained Ms Blackwell. Insufficient funding in previous years had meant the webchat had not been available during the lockdown: "We wish it had been, because many people who did not have the privacy to call us might have been able to use webchat. Nonetheless, we are glad it is there now - it is already shaping up to be a really useful resource for people needing support into the future," she stated.
Ms Blackwell noted the impact of the COVID19 crisis on DRCC's work in 2020, with counsellors noting extremely heightened anxiety levels and feelings of isolation from callers to the National Helpline and DRCC therapy clients. "We were lucky enough to be able to maintain full service throughout lockdown and we know this meant a lot to the people we support," said Ms Blackwell. Citing the 2019 statistic that approximately 20% of the Centre's clients reporting abuse as adults had suffered that abuse at the hands of intimate partners, ex-partners or people they were dating, she said 2020 may however mark a turn for the worse. "Victims of sexual violence are telling us about high levels of anger among abusers. Unfortunately the safest place for an abuser to vent that anger is in the home, on those nearest to them, with less fear of consequences," she explained.
/ENDS
  ***
Notes for editors: 
Dublin Rape Crisis Centre is a non-governmental, voluntary organisation which has as its mission to prevent the harm and heal the trauma of rape. It offers a suite of services to victims/survivors of sexual violence.
Please see below a summary of our main stats for 2019. The full report and statistical supplement will be available to download from the DRCC website at www.drcc.ie from about 4pm on Monday 7 Sept.
The launch event takes place at 3:30pm on Monday 7 September. Registration is possible until 10am on Monday via Zoom. The event will also be livestreamed on the DRCC website and Youtube channel.
DRCC operates the National 24-hour Helpline 1800 778888 for those who need support in any part of the country with no reduction in service. We ask that when reporting on this topic, journalists remember that discussions on sexual violence can trigger personal trauma in those receiving the information. Where possible, please make reference to the National 24-hour Helpline 1800 77 88 88 for anyone who may be affected by the discussion. 


DRCC offers counselling & therapy to clients and provides accompaniment to the Rotunda Sexual Assault Treatment Unit, to court or to Garda stations to people in Dublin and in surrounding areas by arrangement. Outreach offices are at Coolock Civic Centre, Dóchas Women's Centre, Mountjoy Prison, Balbriggan and Tallaght Hospital with clients being supported by face to face and remote therapy due to the COVID19 crisis.   
Dublin Rape Crisis Centre is one of the frontline services engaged with the Department of Justice & Equality on its #StillHere campaign. The www.stillhere.ie website contains information on supports and services for people affected by domestic violence including sexual violence, as well as digital & online safety and courts, legal aid and advice.


DRCC Headline statistics for 2019:
14,159 total contacts to the National Helpline, an increase of 5.93% over 2018 and up 10.14% compared with 2017 calls.
617 clients received counselling & therapy from the centre, compared with 582 in 2018.
4,757 therapy hours completed for Centre clients;
300 people accompanied at the Sexual Assault Treatment Unit in Dublin's Rotunda Hospital and support given to 240 family and friends of these victims.
161 criminal justice system accompaniment days, with 45 people accompanied in court and to Garda stations and a further 49 supported by phone, text or e-mail.
120 training days to 1631 people;
69 talks given in secondary schools and colleges
9 submissions and several other policy interventions across criminal justice, communications, human rights, health education and victim's rights