Moving Forward from Sexual Violence
Moving Forward is an online, self-directed, client-led trauma support programme, aimed at adult survivors of sexual violence.
It is aimed at encouraging and enabling victims and survivors, including those who are currently 'hidden', to come forward and begin their journey towards recovery. It was developed in partnership with a UK-based company, KRTS International Ltd.
Users work independently, with the support of weekly telephone calls from a clinically-trained trauma specialist, taking each chapter at their own pace, typically one per week.
Information is communicated through video, audio and text components within each chapter - there are five chapters in all.
The programme takes approximately 6 weeks to complete. The time commitment is about 2 hours per week.
Users are assigned a personal trauma coach for the duration of their involvement, who will help their progress through the programme and answer any queries they may have on the different chapters, activities, or materials.
Users have a 10 to 30-minute check in call with their trauma coach each week. The aim is that by the end of the programme, the user will have gained a better understanding of how trauma works and have developed effective personal tools for managing trauma symptoms.
In order to be eligible for Moving Forward, potential service users should meet the following criteria:
They have identified themselves as a victim/survivor of sexual violence.
They are living in Ireland (and expect to remain in Ireland for the duration of the programme).
They have access to a computer with internet access and a phone.
They are over 18.
As the programme is self-led, users need to be motivated and able to work independently. They also need to have space in their life to give to the programme.
This programme is not suitable for a person with major stresses in their current life. Face-to-face counselling may be more suitable in that case.
"I went from being unable to fall asleep and waking up to nightmares, to sleeping soundly through the night. I went from being constantly stressed and negative, to being more positive about things and more calm."
To find out more or to discuss whether Moving Forward might work for you, please contact us by e-mail at movingforward@rcc.ie or call the office at 01-661 4911.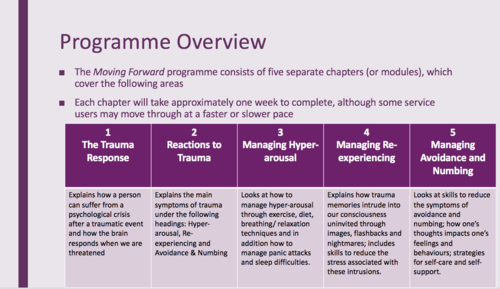 Moving Forward is possible thanks to our generous funders including: