Discussion paper aims to kick-start new solutions to workplace sexual harassment
01 October 2021
---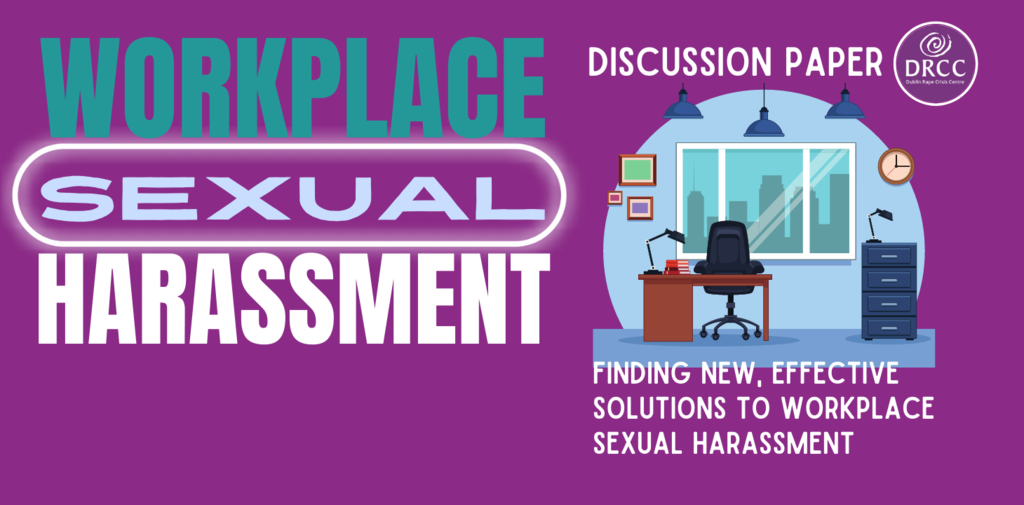 Dublin Rape Crisis Centre (DRCC) says a new research discussion paper launched today could help find new and effective solutions to workplace sexual harassment in Ireland.
The paper summarises research conducted by DRCC, with contributions from law firm A&L Goodbody and solicitor Máille Brady Bates. It includes a survey by DRCC of the experience of victims/survivors of sexual harassment as well as a review of existing legal frameworks. The paper proposes recommendations to reform existing legal mechanisms and create new ones that are victim/survivor-focused.
DRCC's CEO Noeline Blackwell said: "Given the tsunami of revelations across myriad sectors, it is past time to acknowledge the valid frustrations of victims/survivors of workplace sexual harassment. Our survey shows that among those who had experienced sexual harassment, 60% reported being sexually harassed at work.
"With employees across all sectors now returning to the workplace, we have an opportunity – indeed a duty – to critically examine and amend the mechanisms available to victims/survivors seeking to access justice."
Ms Blackwell said the DRCC wanted to start a wider dialogue with key stakeholders by engaging them directly in formulating remedies. The organisation plans a webinar on the paper's findings on 1 November, which will allow stakeholders to discuss the findings and recommendations and plan how to take the research forward.
"Our survey showed most people did not report the harassment they suffered. Participants described how harassment was downplayed as "banter", that they feared losing their job if they complained, that they would be left without a work reference. These workers need and deserve workplace safety. They need mechanisms that are available, accessible and effective, but which are also sensitive to the trauma caused by harassment," said Ms Blackwell.
"Building on the paper and webinar, we intend to develop a working group that will discuss, examine, and test proposed reforms to achieve the changes we need," explained Ms Blackwell.
The paper suggests such solutions as an anonymous helpline to report abuse and offer information and advice, online apps for reporting harassment, and a suggestion to explore other workplace approaches to find effective ways to address the culture of harassment in some workplaces.
Solicitor Máille Brady Bates, a specialist in employment law with a focus on sexual harassment who contributed to the paper, said "This research is a significant and timely contribution to the conversation regarding workplace sexual harassment. It considers creative, effective and holistic means to address cultures of workplace sexual harassment and abuse; such as shifting the focus from viewing workplace sexual harassment solely as an equality issue to a health and safety matter – as has been considered in other common law jurisdictions – to allow for a more victim-centric approach to addressing this culture in the wake of the #MeToo movement."
DRCC expressed gratitude to A&L Goodbody and Máille Brady Bates for their pro bono assistance in creating the briefing paper. The organisation also thanked the Public Interest Law Alliance for its help in finding pro bono legal assistance for the initiative.
The briefing paper is available to download from DRCC's website at drcc.ie. Those interested in attending the webinar on 1 November can view the event page for further details & registration.

/ENDS
---
Notes for editors: 
The paper is available on the DRCC website. Key points from the paper are given below.
Dublin Rape Crisis Centre is a non-governmental, voluntary organisation which has as its mission to prevent the harm and heal the trauma of rape. It offers a suite of services to victims/survivors of sexual violence.
DRCC operates the National 24-hour Helpline 1800 778888 for those who need support in any part of the country with no reduction in service.
DRCC offers counselling & therapy to clients and provides accompaniment to the Rotunda Sexual Assault Treatment Unit, to court or to Garda stations to people in Dublin and in surrounding areas by arrangement.
Outreach offices at Coolock Civic Centre, Dóchas Women's Centre, Mountjoy Prison, Balbriggan and Tallaght Hospital are usually open at select times, but physical premises are closed during the COVID19 crisis and clients are being supported remotely.  
We ask that when reporting on this topic, journalists should remember that discussions on sexual violence can trigger personal trauma in those receiving the information. Where possible, please make reference to the National 24-hour Helpline 1800 77 88 88 for anyone who may be affected by the discussion. 
Dublin Rape Crisis Centre is one of the frontline services engaged with the Department of Justice & Equality on its #StillHere campaign. The www.stillhere.ie website contains information on supports and services for people affected by domestic violence including sexual violence, as well as digital & online safety and courts, legal aid and advice.
***
DRCC Survey highlights
Of the 940 respondents in the survey, 712 reported having experienced sexual harassment (75.7%).
The majority did not report their harassment (591, or 83%).
Of the 712 respondents who reported experiencing sexual harassment, 421 experienced the harassment in their place of employment (59%). This was 44.7% of the total surveyed.
Almost a quarter of these (172 out of the 421 who had experienced workplace sexual harassment) said the harassment happened at work-related events, meetings, or conferences (24%).
Of the 712 that said they had experienced sexual harassment, only 118 reported it (16.5%). Some 39% of these said they reported using formal procedures (i.e., to an internal or external contact, including the Gardaí, legal professional, union, manager, HR department, or other). Half of this group said they reported informally, while 11% said they were unsure.
A&L Goodbody Research
A&L Goodbody identified two legislative frameworks in place that address sexual harassment within the workplace in Ireland. The first is the Code of Practice on Sexual Harassment and Harassment at Work, which gives practical guidance on how to prevent it and what an employer should do if it occurs, however, it is not binding on employers.
The second is the Employment Equality Acts 1998-2015 ("the Acts") that contains the statutory definitions of sexual harassment, which focus on the impact that the conduct or behaviour has on the victim. Under the Acts, employers have a legal responsibility to prevent and address sexual harassment in the workplace and to make sure that clear and adequate channels are in place to investigate allegations and address the issue when necessary. Unfortunately, employees may be deterred from reporting because they are fearful of repercussions that may follow for making a sexual harassment allegation.
Possible solutions
Establish an anonymous helpline for employees and professionals to report sexual harassment or abuse. This tool could not only enable victims and survivors to come forward anonymously, but also provide confidential legal advice and information to aid them should they choose to use external mechanisms to report the matter.
Create online apps to report sexual harassment or abuse in the workplace. The app may shift the focus away from the victim by placing a focus on employer accountability and internal investigations.
Whilst the above-mentioned reforms are useful for addressing broad workplace sexual harassment or abuse, further reflection should also be given to the expansion of how these issues are viewed within the current employment legislation landscape. Traditionally, sexual harassment or abuse in the workplace is seen as an equality issue, while bullying is a health and safety matter
Legal precedent exists for the monitoring, reporting and enforcement of other workplace issues (e.g. protected disclosures, workplace inspections under the Organisation of Working Time Act, and health and safety matters). Such legal precedents may be a helpful starting point from which to consider more creative, effective and holistic means of addressing cultures of workplace sexual harassment and abuse.