Focus on prevention of sexual violence & growing need for support are hallmarks of 2021 report
05 October 2022
---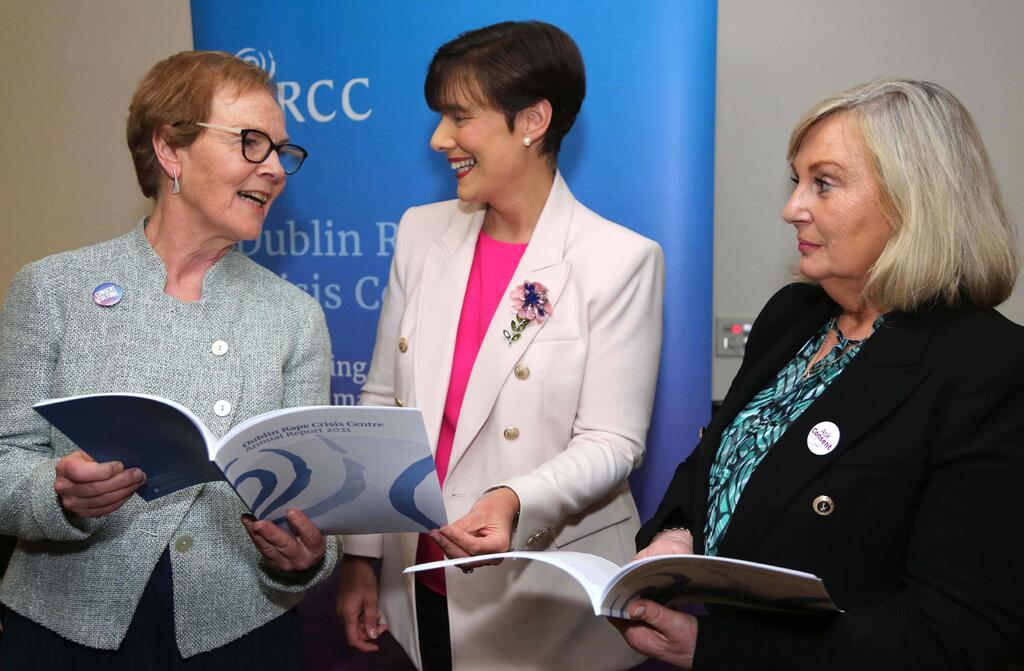 Dublin Rape Crisis Centre (DRCC) will today release its 2021 annual report and statistical supplement that show there were over 14,000 contacts to the National Helpline last year from people seeking support as a result of sexual violence.
DRCC Chairperson Ann Marie Gill said that in the course of a challenging year, DRCC had made significant progress on developing its work to prevent the harm of sexual violence. "In 2021, our prevention focus included workplace sexual harassment, furthering our education programmes, and commencing and building a long-term project on consent. Part of this new consent campaign was ground-breaking research on Irish people's attitudes to and practice of consent. The findings including that 70% of Irish people believe we have a problem with consent, tell us that we need a sea change in attitudes and behaviours on consent. In all of these measures, our aim is to advance a safer society with zero tolerance for sexual violence, and thus DRCC was pleased to see the wide focus of the Third National Strategy on Domestic, Sexual and Gender-Based Violence published this year."
DRCC CEO Noeline Blackwell noted that while DRCC's focus on health and justice services for victims/ survivors was reasonably well known, the invitation to Minister Foley highlighted the Centre's long-standing concerns about the lack of adequate accessible sexual health and relationships education for our children and young people. "This is why we will be contributing to the NCCA's current review on the adoption of a new positive SPHE programme for Junior Cycle and why we urge others to do the same before the consultation closes in mid-October."
She continued: "As our report shows, our staff and volunteers saw a significant increase in both the intensity of support and the numbers needing help through the Helpline and the therapy and accompaniment services. While we will always need these services, a better education system and a better recognition of the centrality of consent will at the very least help to ensure that some people are never harmed in the first place."
The launch will hear from secondary school teacher Eoghan Cleary on his experience with SPHE teaching and what young people are experiencing, including his experience in implementing DRCC's BodyRight programme. According to Caitriona Freir, DRCC Education & Training Manager," We are inundated with requests from teachers and others working with young people to help them to facilitate discussions on healthy relationships and to enable young people to navigate the world of media, culture and pornography. We are hearing that because young people are not having these discussions in a safe environment, they learn how to behave from the world of pornography, where there are problematic messages about gender, body image, consent, sexual health and sex. We also hear that information on RSE is too often an afterthought that gets squeezed out of schedules. Teachers must be given sufficient time and support to effectively educate and empower young people in a consistent way. We believe their basic human right to education includes information on consent and healthy relationships. This issue is far too important for our whole society but especially for our children and young people."
"We remind everyone that the National 24-Hour Helpline is there for anyone who needs support or information at any time – call 1800 778888 for free, non-judgmental and confidential support," she concluded.
/ENDS
  ***
Notes for editors: 
The annual report and statistical supplement are available to download. An overview document with key data is available.


DRCC programmes aimed at young people:
BodyRight is a sexual violence prevention and education programme for professionals working with young people. It focuses on preparing and supporting those educating young people in these sensitive topics and provides a manual of activities to deliver the messages appropriately. The programme covers the areas of sexual violence awareness, consent, support, sexting and online coercion. Support, advice and training updates are also provided to those working with young people. #LetsGetReal is a programme around the influence of media, culture and pornography. It is available to those working with young people in schools, youth groups and colleges.

Information on DRCC's training programme aimed at those working with young people, is at: https://www.drcc.ie/services/education-training/courses/bodyright-facilitator-training-programme/
The NCCA's consultation on the review of the Junior Cycle Social, Personal Health Education curriculum can be accessed here.
Dublin Rape Crisis Centre is a non-governmental, voluntary organisation which has as its mission to prevent the harm and heal the trauma of rape. It offers a suite of services to victims/survivors of sexual violence. It also offers a wide range of training and education to professionals and volunteers.

DRCC operates the National 24-hour Helpline1800 778888 to support anyone affected by sexual violence in any part of the country. A webchat support service is available online at drcc.ie Mon-Fri, 10am-2pm. A Helpline Interpreting Service is available for those who do not speak English - more at https://bit.ly/DRCClang
For those contacting the Helpline who are deaf or hard of hearing, we provide a text service, operating Mon-Fri from 8am to 6:30pm, at 086-8238443 and we also have a webchat service available Mon-Fri, 10am to 2pm (excluding Bank Holidays).
DRCC offers counselling &therapy to adult survivors of sexual violence and to older adolescents from 16 years of age with parental/guardian consent.
We provideaccompaniment support for the Rotunda Sexual Assault Treatment Unit, to court or to Garda stations to people in Dublin and in surrounding areas, by arrangement.
We have outreach offices at Coolock, Dóchas Women's Centre, Balbriggan & Tallaght. Access to these services must be arranged via the National Helpline 1800 778888 during working hours, Mon-Fri.

We ask that when reporting on this topic, journalists should remember that discussions on sexual violence can trigger personal trauma in those receiving the information. Where possible,please make reference to the National 24-hour Helpline 1800 77 88 88 for anyone who may be affected by the report.