We-Consent
---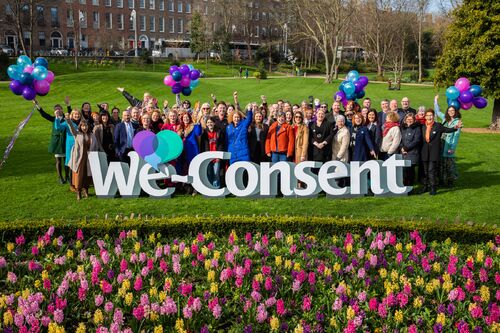 We-Consent, a new three-year campaign, ignites a national conversation about consent
Dublin Rape Crisis Centre has launched the first National Consent Campaign aimed at driving a cultural shift and behavioural change in Ireland across all age groups.

Research shows 70% of people see a problem with sexual consent in Ireland.

Campaign to inform, educate and engage with all members of society about consent.
Dublin Rape Crisis Centre, alongside Minister for Justice, Simon Harris TD, and Community Foundation Ireland, has launched We-Consent, a long-term national campaign to inform, educate and engage with all members of Irish society about consent. It is among the first national consent campaigns targeting all demographic cohorts to be launched across the globe.
This campaign will ignite an open and meaningful conversation about sex and relationships and build a greater understanding of consent. We-Consent will work broadly with groups and stakeholders from across the country across all demographics to ensure a non-judgmental conversation that is inclusive and rooted in the lives and experiences of real people.
Research
Research undertaken by DRCC illustrated that 70% of people think we have a problem with consent in Ireland, while 1 in 3 people are embarrassed to talk about sex. The research also showed a misunderstanding of consent, with 1 in 5 people agreeing that sometimes people say no to sex when they want convincing.
According to the same research, 84% of people in Ireland agreed that we need age-appropriate sex education in school and 60% say consent is a responsibility for all society and needs state action. The qualitative research illustrated a strong desire amongst parents to empower their children when it comes to consent.
The research also suggested that moving the conversation towards sexual equality, will empower all genders, leaving people feeling valued, respected and accepted. We-Consent is focused on positive thinking, encouraging everyone to participate in a meaningful and engaging conversation to achieve a cultural shift for the better.
How you can get involved
The We-Consent campaign will run for at least the next three years with workshops and communication initiatives planned nationally to help inform and engage the population. Information will be provided with the aim of informing open, inclusive and progressive conversations.
You can visit We-Consent.ie for more information and resources. We have a Resource Hub where you can play your role by learning more, spreading awareness and building a future where consent is at the cornerstone of all that we do.
Follow We-Consent on Facebook, Instagram, Twitter and TikTok to keep up with the campaign and how you can get involved!
We-Consent is funded by: