DRCC 16 Days campaign 2021
---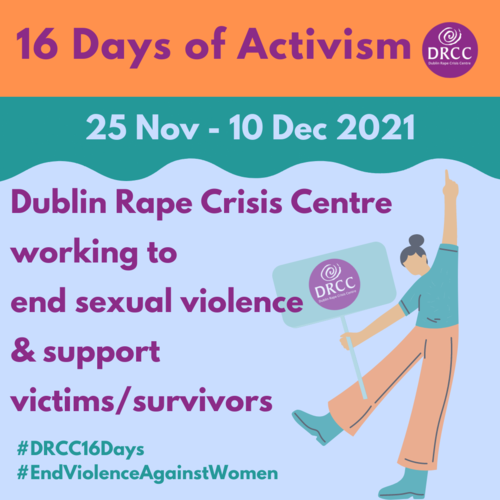 This year, Dublin Rape Crisis Centre is marking the annual worldwide 16 Days of Activism against Gender-Based Violence from 25 November to 10 December by highlighting our work to prevent sexual violence and to support those who have been impacted by it.
The campaign focuses on violence against women and girls. While gender-based violence impacts all genders, women are disproportionately the victims/survivors of it. Globally, one in three women will be subjected to physical or sexual violence during their lifetimes (WHO 2021). In Ireland, over 90 percent of DRCC's therapy clients in 2020 were women, as were more than 4 in 5 callers on the National 24-Hour Helpline (DRCC 2021a). We know one in five of our female clients have been assaulted by their partner or ex-partner (DRCC 2020). Some 35% of female students & 25% of non-binary students have never disclosed sexual assault (SES Survey, 2020). And our most recent research shows that 70% of people think we have a problem in this country with understanding consent (DRCC 2021b).
We will be marking each of the campaign's 16 days with a focus on an aspect of our work, whether it be a support for victims/survivors of sexual violence, a service to raise awareness of sexual violence and its impact, or an activity that aims to prevent the harm that sexual violence does in our society.
A highlight of our campaign will be our new Helpline Interpreting Service, which is launching on 1 December. It is aimed at people whose first language is not English and who need support after sexual violence of any kind. The service provides live interpretation in over 240 languages over the phone on the National 24-Hour Helpline 1800 778888, for free and in confidence.
Throughout the 16 days, DRCC is part of the UN Women x TikTok campaign under the banner #EndViolenceAgainstWomen, featuring members of our brilliant Youth Advisory Panel Ellie and Keara, and our own staff members Jen & Edie. Watch out on 6 December for our TikTok Live when our CEO Noeline Blackwell will be in conversation with creator Lauren Whelan about the 16 days campaign, sexual violence and how we can all act to end it.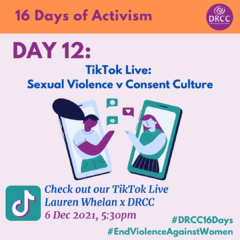 How can you get involved?
This year, for the 16 Days of Activism, we're asking the Irish public to join us in creating a better, safer society by eliminating sexual violence against women and girls. It's time to #EndViolenceAgainstWomen.
Follow us on our social media platforms. Make sure to like, retweet and share our social media posts – and if you're on TikTok, check out the #EndViolenceAgainstWomen hashtag.
Spread the word about our #DRCC16Days campaign to your community and networks – start the conversation, share this page!
Donate to support our vital work.
Learn more about our services for yourself or for anyone who might need them.
All these actions help us with our ultimate aim of creating a better, safer society. On behalf of all of us at Dublin Rape Crisis Centre, we thank you for your support!
#EndViolenceAgainstWomen #DRCC16Days