16 Days of Activism - 2017
---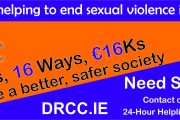 The Dublin Rape Crisis Centre (DRCC) has been at the forefront of the Irish response to sexual violence since 1979.
We are proud to announce that we are active participants in the #16DaysofActivism Campaign, a global initiative to end violence against women and girls around the world. The Campaign runs from 25 November, the International Day for the Elimination of Violence against Women, to 10 December, Human Rights Day.
This year, we are asking the Irish public to join us in creating a better, safer society by eliminating sexual violence against women and girls.
For these 16 Days, we will be running a Campaign to raise awareness of sexual violence in Ireland. Our Twitter and web-based Campaign will cover a broad range of topics, from survivor stories to responding to harassment int he workplace, to reminders about the services DRCC offer to survivors.
We Need Your Support
The DRCC invite you to join us in our efforts to create a better, safer society by eliminating sexual violence in Ireland.
Over the last few months, our news has been dominated by headlines relating to sexual violence –revelations of sexual assaults by high-profile celebrities, sexual harassment, sexual abuse of children and numerous examples of victim blaming.
These news items have led to an unprecedented demand for our services, and demonstrate that our work to prevent sexual violence is needed now more than ever.
To that end, we are asking the public to help us raise €16,000 over the 16 Days Campaign. This funding will be used to support our National 24-Hour Helpline, our counselling services and our efforts to eliminate sexual violence through campaigning, research and education.
DONATE NOW TO HELP US CREATE A BETTER, SAFER SOCIETY IN IRELAND BY DONATING TO OUR CAMPAIGN.
Other Ways You Can Help
We are deeply grateful for any contribution you can make. However, if you are not in a position to make a financial contribution, you can still support is in the following ways:
• Like, retweet and share our social media posts to help us to get #16Days2017 out there to the public
• Spread the word about our 16 Days Campaign to your community and networks
• Follow us on Twitter @DublinRCC
• Like and follow our DRCC Facebook Page
• Learn more about our services and direct anyone who may need our support to our website or our Helpline
All these actions help us with our ultimate aim of creating a better, safer society. On behalf of all of us at The Dublin Rape Crisis Centre, we thank you for your support!
This page will include links to all Campaign news but keep an eye on Twitter for our latest updates and inside info on our Campaign!