#100consent
---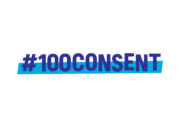 #100percent - be 100% or it's not consent
This campaign, launched on 6 March 2020, focused on clarity and communication in sexual relationships.
The #100Consent campaign's message is that when it comes to sexual consent, the slightest uncertainty can lead to devastating consequences.
The TikTok phenomenon has reached our shores with a bang – with the app now home to over 90,000 daily Irish users, mainly aged 16-24 years. This is a key audience for consent education, so we teamed up with 22 of Ireland's most popular TikTokers to launch the campaign. With a combined following of 2.8M Irish youths, this group of TikTokkers are selflessly using their influence to spread an incredibly important message.
The 22 participants attended a voluntary day of workshops and brainstorming sessions to help educate them on consent and inspire their content. Workshop themes included topics like "The stages of consent", "The scale of agreement" and the power of social influence. The discussion sessions challenged them to ideate content that spreads the #100Consent in a tone that resonates with their demographic.
"DRCC is both honoured and delighted that these great young people agreed to give time and thought to this new #100Consent campaign. Their TikTok activity shows that they are all brilliant communicators, and we're learning a lot from them. As far as we know, this is the first time that Irish TikTokers have assembled to talk about an important social issue from a campaign perspective. We're so excited to be part of a new way of getting the consent message out there, and getting young people to think about how consent really features in their lives."

Noeline Blackwell, CEO of Dublin Rape Crisis Centre
For 40 years, the DRCC has provided crisis counselling and long-term therapy to rape, sexual assault, and childhood sexual abuse survivors. Our services include a National 24-hour Helpline, one-to-one counselling, Garda and court accompaniment, and training programmes. In addition, we engage in policy interventions and public awareness campaigns.
---
---