#Unite4Consent: DRCC marks #16days of Activism with Art celebrating consent, activism, women & community  
17 November 2022
---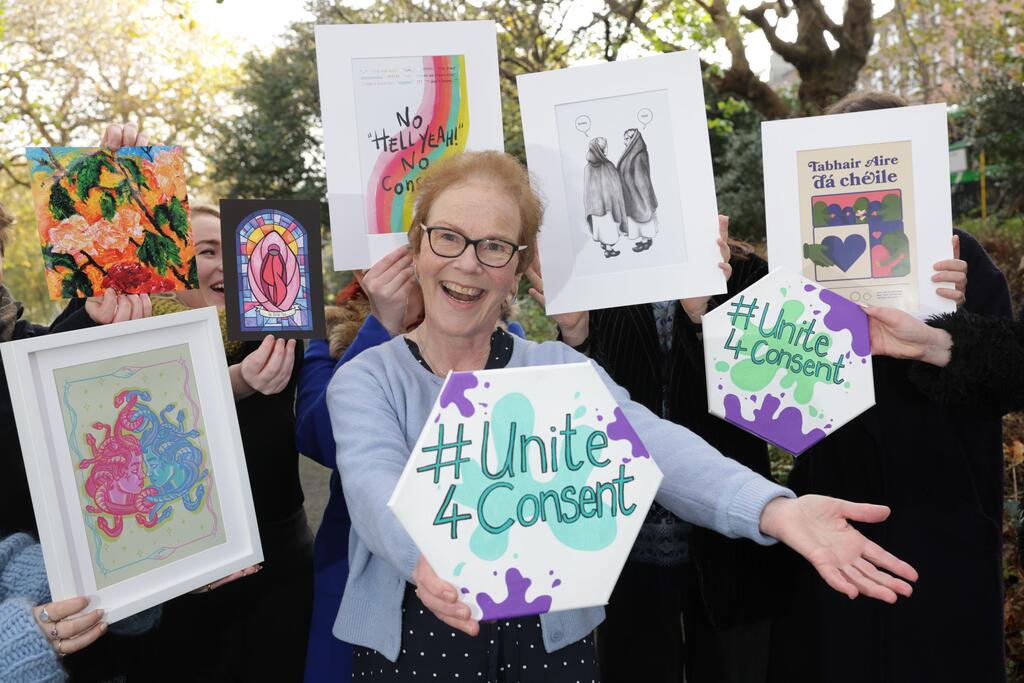 Dublin Rape Crisis Centre (DRCC) today launched its #Unite4Consent campaign as part of the UN 16 days of activism against gender-based violence, collaborating with six well-known Irish artists to create prints that celebrate consent, activism, women and community.
At the launch in Dublin's Merrion Square today, DRCC's CEO, Noeline Blackwell said: "This campaign seeks to highlight how we can all be activists – we can all #Unite4Consent to create a society that has zero tolerance for sexual violence. We hear daily from those that we work with – survivors, frontline staff and the wider public – that people in Ireland want to build a consent culture.
"Art is a powerful means of bringing people together. It can address difficult topics in an accessible way and spark important, meaningful conversations – and that is vital for the consent culture that we need. We are so grateful to the contributing artists for putting forward their creations and thoughts and hopes in this campaign."
The artists contributing to the #Unite4Consent campaign are Orlaith de Burca (aka DeBúrca), Laura Duffy, Sarah Hegarty (aka Vadge of Honour), Eibhin Kavanagh (aka Rotten Rouge), Ciara Kenny (aka Ciaraíoch) and Bronagh Lee.
The prints will be on sale via DRCC's website from 17 November to 15 December 2022 with a percentage of sales going to support DRCC's work and vital services.
The #Unite4Consent contributing artists are:
Orlaith DeBurca, an illustrator and designer based in Limerick: "As women we need to mind each other and lift each other up. This campaign is so important, consent is something that needs to be talked about as much as possible and I'm delighted to bring any awareness to the topic."

Laura Duffy, Dublin artist and illustrator, has "based this piece on the symbol of Medusa as it has been reclaimed in recent years as a symbol of sexual assault survival. According to many retellings of the Greek myth, Medusa was cursed with snakes for hair and eyes that turn men to stone as a punishment by the goddess Athena after Medusa was raped by Poseidon in Athena's temple, making her story one of the oldest examples of victim blaming in pop culture. Today, Medusa is considered by many as a protective symbol and provides a sense of empowerment, resilience, and strength to survivors of sexual violence."

Sarah Hegarty (Vadge of Honour), graphic designer / illustrator: "For me I think celebrating bodies of all shapes, sizes, ability and colour is important. But as we celebrate it is equally important to learn to respect boundaries. Learn about body language, learn that silence is not consent."
Eibhin Kavanagh (Rotten Rouge), Dublin-based artist, says hispiece shows "roses in my garden, that have been growing since I was a child. Each winter they are cut right back, but then every spring they come back bigger with stronger and more colourful blooms, and I think there is nice symbolism in this."
Ciara Kenny (Ciaraíoch), cartoonist illustrator from Kerry, says her piece was created to "reflect the power of whisper networks, and women quietly looking out for, warning, and protecting other women from harmful people".
Bronagh Lee (Buntilee), an independent artist and illustrator based in Dublin created her piece "to help people who have felt taken advantage of not feel like it was their fault just because they didn't say "No" as no comes in many shapes and forms".

Learn more on the campaign at bit.ly/unite4consent.
We remind everyone that the National 24-Hour Helpline is there for anyone who needs support or information at any time – call 1800 778888 for free, non-judgmental and confidential support.
/ENDS
  ***
Notes for editors:  
1. Images for free repro from the launch of the #Unite4consent campaign, featuring artists and DRCC staff, will be issued to newsdesks by Maxwells Photography after the launch at 11am.
2. The prints will be on sale via DRCC's website at https://bit.ly/unite4consent from 17 November to 15 December with a percentage of sales going to support DRCC's work and vital services.
3. Dublin Rape Crisis Centre is a non-governmental, voluntary organisation which has as its mission to prevent the harm and heal the trauma of rape. It offers a suite of services to victims/survivors of sexual violence. It also offers a wide range of training and education to professionals and volunteers.  
DRCC operates the National 24-hour Helpline 1800 778888 to support anyone affected by sexual violence in any part of the country. A webchat support service is available online at drcc.ie Mon-Fri, 10am-2pm. A Helpline Interpreting Service is available for those who do not speak English - more at https://bit.ly/DRCClang
For those contacting the Helpline who are deaf or hard of hearing, we provide a text service, operating Mon-Fri from 8am to 6:30pm, at 086-8238443 and we also have a webchat service available Monday-Friday, 10am to 5pm, except holidays.
DRCC offers counselling & therapy to adult survivors of sexual violence and to older adolescents from 16 years of age with parental/guardian consent.
We provide accompaniment support for the Rotunda Sexual Assault Treatment Unit, to court or to Garda stations to people in Dublin and in surrounding areas, by arrangement.   
We have outreach offices at Coolock, Dóchas Women's Centre, Balbriggan & Tallaght. Access to these services must be arranged via the National Helpline 1800 778888 during working hours, Mon-Fri.   
4. We ask that when reporting on this topic, journalists should remember that discussions on sexual violence can trigger personal trauma in those receiving the information. Where possible, please make reference to the National 24-hour Helpline 1800 77 88 88 for anyone who may be affected by the report.