The Realities of Rape Trials in Ireland
21 June 2021
---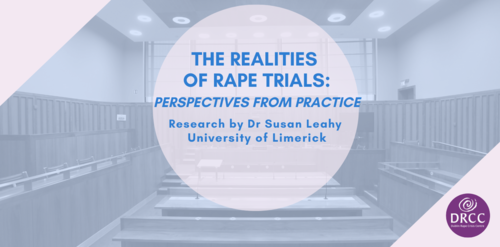 New research on the operation of rape trials in Ireland that draws on the experience and views of legal professionals involved in rape trials and court accompaniment workers supporting complainants.
Dr Susan Leahy of the University of Limerick School of Law conducted the research to explore the realities of Irish rape trials and how current laws and procedures in this area operate. The research aimed to provide a new perspective on the operation of Irish sexual offences law, seeking to uncover the realities of rape trials by obtaining the views of certain key stakeholders. It also seeks to help fill a gap caused by the lack of empirical data on the practical operation of current sexual offence trials.
Dr Leahy's research was funded by the Irish Research Council's New Foundations Scheme and complies with the ethical framework of University of Limerick.
While the research was done in partnership with Dublin Rape Crisis Centre, the views on reform expressed here represent those of the research participants and the recommendations made by the author are based on these views with reference to best practice in comparable jurisdictions.