Pledge for victim-centred reforms to criminal justice system from Justice Minister
07 September 2020
---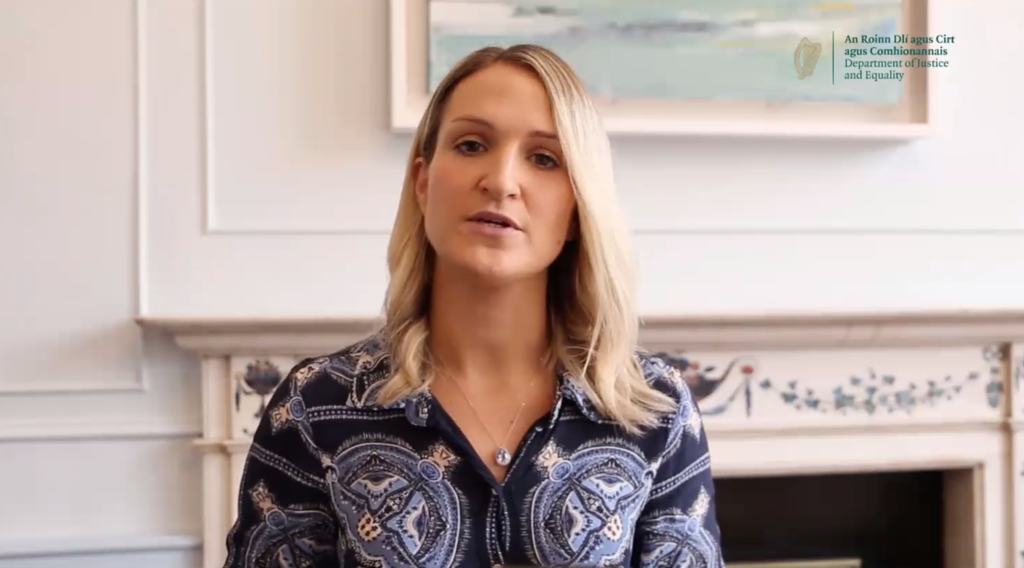 At the launch today of the Dublin Rape Crisis Centre (DRCC) 2019 annual report, Minister for Justice Helen McEntee TD repeated her intention to implement swiftly a suite of measures that will improve the criminal justice system for vulnerable witnesses.
Launching the report, Minister McEntee she was committed to "making real and substantive change related to sexual violence" both as Minister and as a young woman herself. She said she shared the organisation's focus on a positive attention to societal attitudes and comprehensively addressing sexual violence where it occurs.
CEO of the Dublin Rape Crisis Centre Noeline Blackwell welcomed the Minister's commitment to implement without delay the recommendations of the recent O'Malley Review: "We need our leaders to understand that sexual violence is a problem that remains endemic in our society. It needs vigilance and it needs system change. The Minister was able to demonstrate how her department can contribute to that change in systems, not only through changes for victims going through the courts, but also through raising awareness, giving people access to information and in building public knowledge about consent."
At the launch, DRCC said that its online survey of those interested in the findings of the O'Malley Review had revealed that their biggest priority was ensuring that those working in the justice system – judges, lawyers, Gardai and other actors - received specialised training. While some of the respondents to the survey doubted the O'Malley review could achieve positive change, the majority felt it had value or were at least open to that possibility. Ms Ms. Blackwell welcomed Minister McEntee's intention to bring an implementation plan to Government in October 2020.
Other concerns raised by respondents to the DRCC's online survey included the delay in advancing trials and the lack of practical and legal supports and information for victims.
Among the O'Malley Review recommendations highlighted by Minister McEntee in her speech were a proposal to provide a single portal with wide-ranging information. She
also noted that the July stimulus package had included provision to complete the roll-out of Protective Services Units in each of the country's 28 Garda division. She said that 21 were in place and that she had been informed by the Garda Commissioner that the remainder would be in place by the end of September 2020.
Ms. Blackwell noted the continued expansion of services by the Centre, with increased numbers accessing the traditional services and the addition of new online services including counselling support and Webchat. In addition, the Centre is working to build increased societal understanding of consent and the need for accountability from abusers.
The Minister also acknowledged the contribution made by DRCC in combating and healing sexual violence over its 40 years of existence and its continued contribution in the COVID-19 crisis period.
/ENDS
Notes for editors: 
Dublin Rape Crisis Centre is a non-governmental, voluntary organisation which has as its mission to prevent the harm and heal the trauma of rape. It offers a suite of services to victims/survivors of sexual violence.


The annual report and statistical supplement is available to download from the DRCC website at www.drcc.ie.


A recording of the launch event can be viewed on the DRCC Youtube channel.


DRCC operates the National 24-hour Helpline 1800 778888 for those who need support in any part of the country with no reduction in service. We ask that when reporting on this topic, journalists remember that discussions on sexual violence can trigger personal trauma in those receiving the information. Where possible, please make reference to the National 24-hour Helpline 1800 77 88 88 for anyone who may be affected by the discussion. 


DRCC offers counselling & therapy to clients and provides accompaniment to the Rotunda Sexual Assault Treatment Unit, to court or to Garda stations to people in Dublin and in surrounding areas by arrangement. Outreach offices are at Coolock Civic Centre, Dóchas Women's Centre, Mountjoy Prison, Balbriggan and Tallaght Hospital with clients being supported by face to face and remote therapy due to the COVID19 crisis.   


Dublin Rape Crisis Centre is one of the frontline services engaged with the Department of Justice & Equality on its #StillHere campaign. The stillhere.ie website contains information on supports and services for people affected by domestic violence including sexual violence, as well as digital & online safety and courts, legal aid and advice.