New #16stats campaign highlights scale of sexual violence in Ireland to raise funds for vital work
25 November 2020
---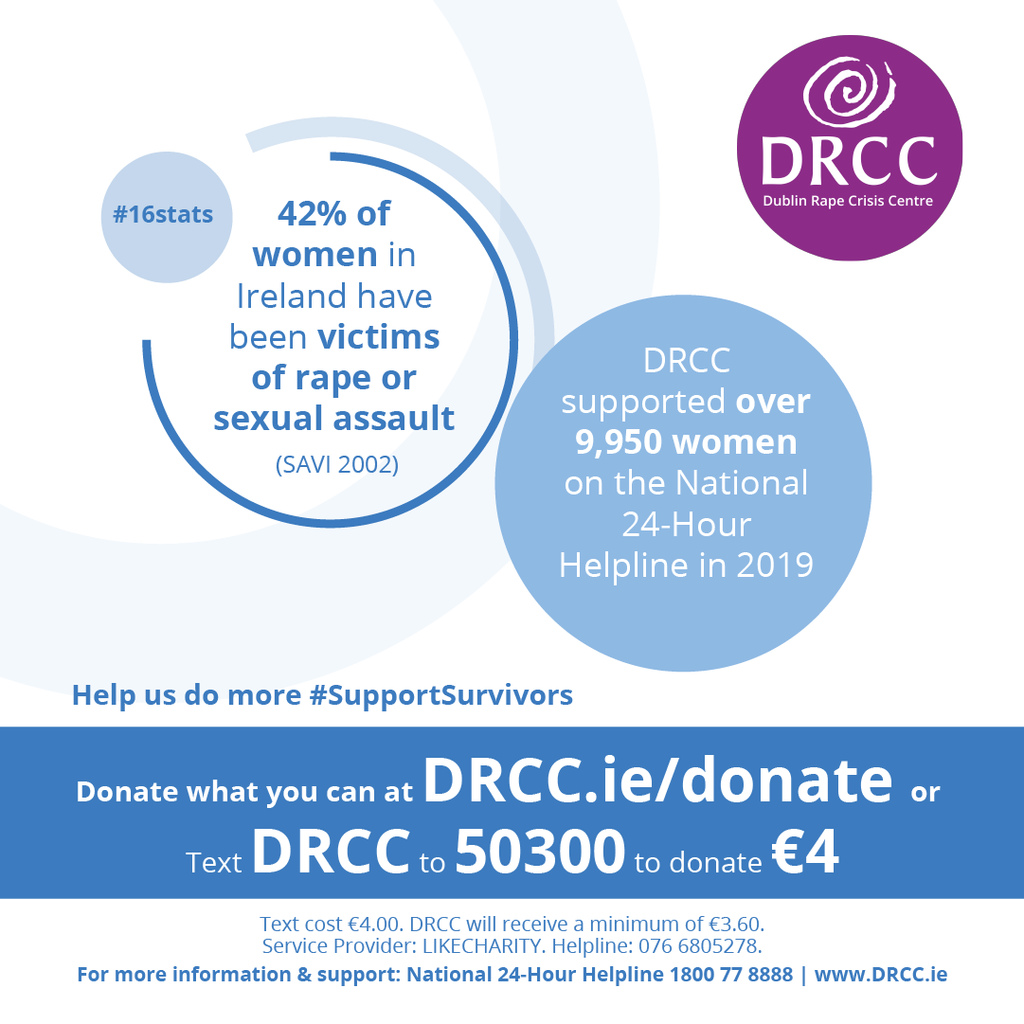 Today (Weds 25 November), Dublin Rape Crisis Centre (DRCC) is marking the start of 16 days of global action against gender-based abuse with a new campaign highlighting sexual violence in Ireland and seeking public support to maintain its work.
Each day, DRCC will spotlight a different & stark statistic to show the scale of sexual violence in Ireland, alongside its own work to support survivors and prevent sexual violence. With normal fundraising capacity decimated by COVID-19, the frontline body is calling on people to donate what they can to help ensure its full range of supports will be there for survivors when they need them.
According to its CEO Noeline Blackwell, "We are using the #16stats campaign to remind people of the sheer scale of sexual violence in Ireland. We want the campaign to highlight the frequency and variety, the numbers affected, and the need for diverse supports for survivors across our health and justice systems.
"And we are reminding people that consent in sexual activity is key to stopping this violence from happening in the first place. Failing to understand the central nature of consent will continue to see the trail of destruction left by sexual violence across our society," Ms Blackwell stressed.
DRCC must raise €1m from public fundraising each year to maintain its existing levels of work. COVID-19 has critically damaged the organisation's ability to raise funds and DRCC faces serious pressure to maintain existing programmes and services. "Since the pandemic hit in March, the number of survivors waiting for therapy from DRCC has risen by a third to our highest ever level of 411 in September. But we will meet this need, with public help," said Ms Blackwell.
The #16stats campaign will run across all DRCC social channels under #16stats, and shadows the international campaign calling for the elimination of gender-based violence from 25 November (International Day Against Violence Against Women) to 10 December (International Human Rights Day).
"At this time of year, we normally run our Flag Day, which raises an amazing €40,000 annually and is crucial to funding our work. Unfortunately, this year that was impossible. The 16stats campaign allows us to call on people to offer their support and give what they can," explained Ms Blackwell.
DRCC is delighted to have the support of Dublin's Lord Mayor Hazel Chu, musician Maija Sofia, film-maker Lenny Abrahamson, DJ Rick O'Shea, a fantastic group of women comedians and a host of others who want to see change on sexual violence in Ireland.
DRCC is calling on those who wish to see concrete change on sexual violence to get involved: "We are asking people to share our posts widely to show the reality for survivors and their need for support. For those who can donate, we ask them to please give what they can at drcc.ie/donate, to give €4 monthly by texting HELP to 50300, or make a once-off donation of €4 by texting DRCC to 50300," concluded Ms Blackwell.
#16stats #supportsurvivors
/ENDS
***
Notes for editors: 
Dublin Rape Crisis Centre is a non-governmental, voluntary organisation which has as its mission to prevent the harm and heal the trauma of rape. It offers a suite of services to victims/survivors of sexual violence.
More information on the campaign as well as the full list of stats and other assets at https://bit.ly/DRCC16stats from 25/11.
DRCC continues to operate the National 24-hour Helpline 1800 778888 for those who need support in any part of the country, with no reduction in service during COVID restrictions.
DRCC offers counselling & therapy to clients and provides accompaniment to the Rotunda Sexual Assault Treatment Unit, to court or to Garda stations to people in Dublin and in surrounding areas by arrangement.
Outreach offices at Coolock Civic Centre, Dóchas Women's Centre, Mountjoy Prison, Balbriggan and Tallaght Hospital are usually open at select times, but physical premises are closed during the COVID19 crisis and clients are being supported remotely.  
We ask that when reporting on this topic, journalists remember that discussions on sexual violence can trigger personal trauma in those receiving the information. Where possible, please make reference to the National 24-hour Helpline 1800 77 88 88 for anyone who may be affected by the discussion or content. 
Dublin Rape Crisis Centre is one of the frontline services engaged with the Department of Justice & Equality on its #StillHere campaign. The www.stillhere.ie website contains information on supports and services for people affected by domestic violence including sexual violence, as well as digital & online safety and courts, legal aid and advice.
Text Donate information:
- Text DRCC to 50300 to donate €4 as a once off
Texts cost €4. The DRCC will receive a minimum of €3.60. Service Provider: LIKECHARITY. Helpline: 076 6805278.
- Text CRISIS to 50300 donate €4 a month
This a subscription service. Text costs €4 per month. DRCC will receive a minimum of €3.60 per text.
Service Provider: LIKECHARITY. Helpline: 076 6805278.