National Helpline for survivors of sexual violence now accessible in over 200 languages
01 December 2021
---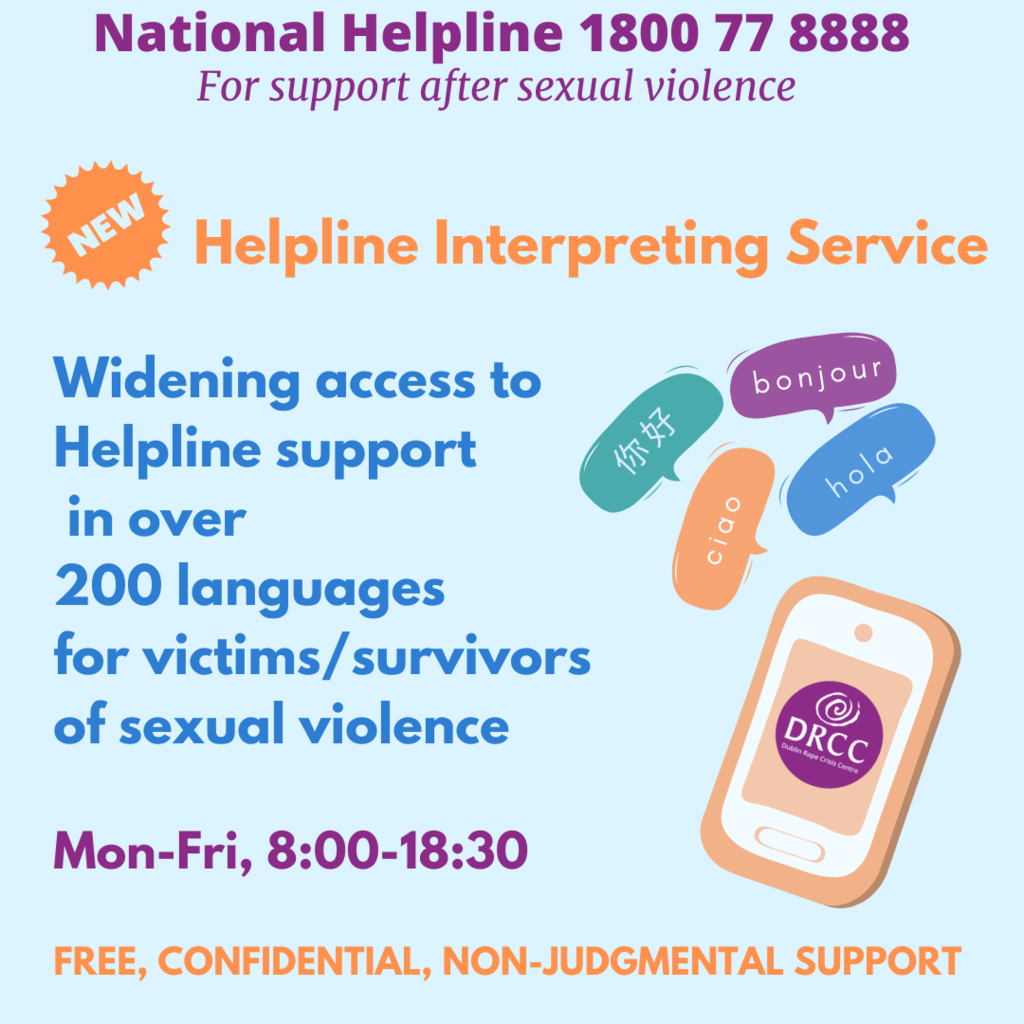 Dublin Rape Crisis Centre (DRCC) has announced a widening of access to a key support for victims/survivors of sexual violence in Ireland with its new helpline interpreting service.
The National Helpline 1800 778888 will now feature an additional option for people whose first language is not English, allowing them to speak to a crisis counsellor with the help of an interpreter.
Announcing the launch as part of DRCC's campaign to mark the global 16 days of activism against gender-based violence, CEO Noeline Blackwell said the organisation had long wanted to offer support to people whose native language is not English, in recognition of the extra barrier that presents to people seeking assistance.
"We know that well over a tenth of people living in Ireland do not speak English as a first language. In our counselling & therapy services, we have long been able to provide support to non-English-speaking clients with the help of an interpreter, but that has not been possible for our helpline. We are therefore really pleased to be able to announce this very important news," she said.
"It is already very difficult to talk about what is probably the worst experience of your life in your own native language. Imagine trying to express such a difficult topic in what may be your second or third language. And yet we know that availing of the Helpline support makes a real difference to the people who call us. So we are recognising a need that exists out there," said Ms Blackwell.
The new Helpline interpreting service will make this important support available to a wider group of people. The caller will ring the National Helpline at the Freephone number 1800 778888 as usual but when they get through, they say what language they require and DRCC can then get an interpreter in that language on the line to facilitate the support session.
Commenting on the launch, DRCC's National Helpline Manager, Michelle Grehan said: "Callers can be assured that their calls will be in confidence and, as ever, there is no charge. Our focus is to provide support, to listen and to believe our callers, in a non-judgmental way, offering information and helping them to think through options in whatever way they need.
"As Helpline workers, we hear how challenging it is for those who have experienced sexual violence, whether past or present, they describe feelings of isolation and fear. For those who do not have English as their first language, these feelings can be magnified. We can now listen and support these callers and be present for them in that lived experience," added Ms Grehan.
The interpreting service is funded by Tusla, the Child and Family Agency, and interpreting is supplied by Language Line, a UK-based company. For the moment the service will run on the National Helpline 1800 77 8888 from 8am to 6:30pm, Monday to Friday.

/ENDS
Information in various languages available by clicking on the corresponding image below:
---
Notes for editors: 
Information on languages in Ireland is drawn from CSO data on the 2016 Census.
More information on the Helpline Interpreting Service is on DRCC's website at https://bit.ly/DRCClang
For those contacting the Helpline who are deaf or hard of hearing, we provide a text service, operating Mon-Fri from 8am to 6:30pm, at 086-8238443 and we also have a webchat service available Mon-Fri, 10am to 2pm (excluding Bank Holidays).
Dublin Rape Crisis Centre is a non-governmental, voluntary organisation which has as its mission to prevent the harm and heal the trauma of rape. It offers a suite of services to victims/survivors of sexual violence.
DRCC operates the National 24-hour Helpline 1800 778888 to support anyone affected by sexual violence in any part of the country. A webchat support service is available online at drcc.ie Mon-Fri, 10am-2pm.
DRCC offers counselling & therapy to clients and provides accompaniment to the Rotunda Sexual Assault Treatment Unit, to court or to Garda stations to people in Dublin and in surrounding areas, by arrangement.
We have outreach offices at Coolock, Dóchas Women's Centre, Balbriggan & Tallaght. Access to these services must be arranged via the National Helpline 1800 778888 during working hours, Mon-Fri.  
We ask that when reporting on this topic, journalists should remember that discussions on sexual violence can trigger personal trauma in those receiving the information. Where possible, please make reference to the National 24-hour Helpline 1800 77 88 88 for anyone who may be affected by the report. 
Dublin Rape Crisis Centre is one of the frontline services engaged with the Department of Justice & Equality on its #StillHere campaign. The www.stillhere.ie website contains information on supports and services for people affected by domestic violence including sexual violence, as well as digital & online safety and courts, legal aid and advice.