DRCC Opinion: Online abuse is abuse - time to end it
08 March 2023
---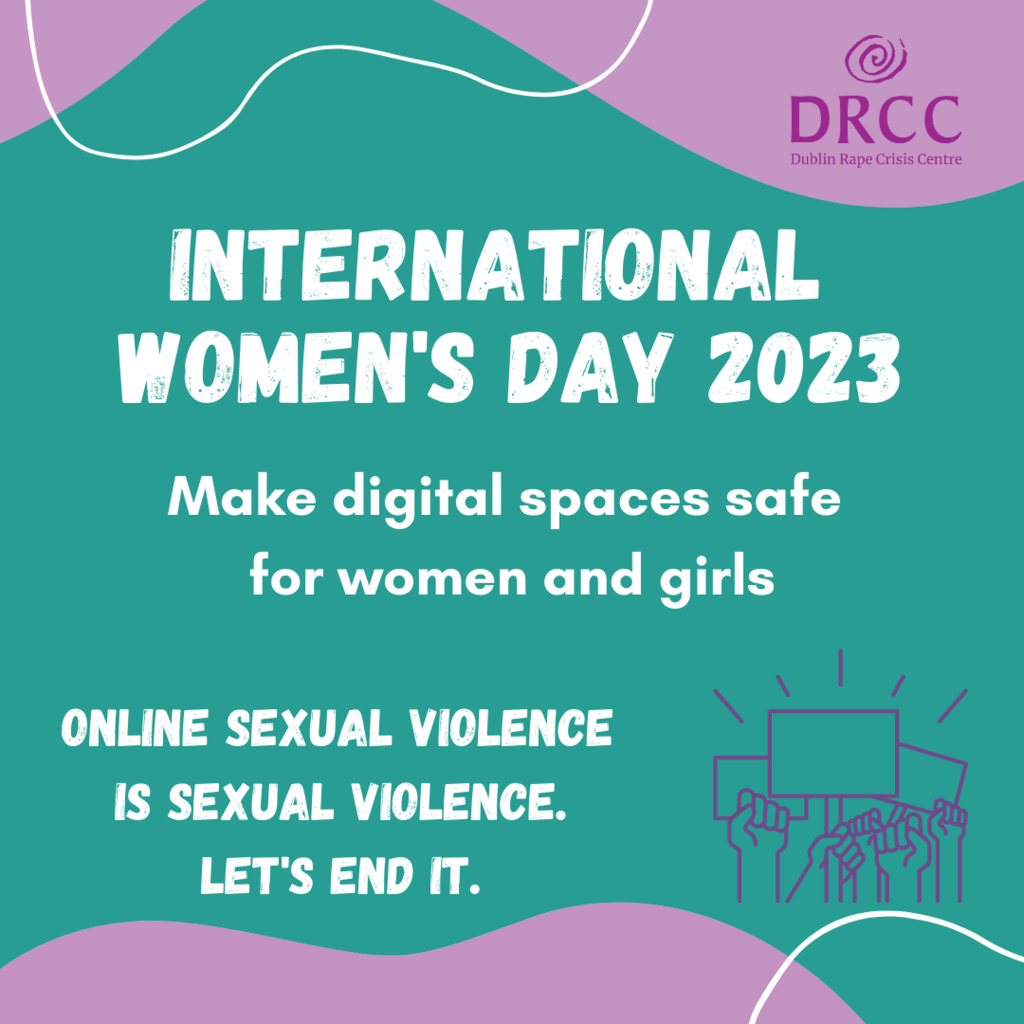 Sexual violence of all forms can be very hard to see. Because it is about non-consensual sexual behaviour and activity, often in an intimate space, there may be no physical marks or outside witnesses to the attack. Often the deepest harm and hurt happens to the violation of the dignity and bodily integrity of a person, to the attack on their mind, their emotions, their confidence that their person is safe.
The United Nations Women's theme for International Women's Day 2023 on 8 March is a focus on gender equality through a digital lens. Picking up on that, and reminded that our Citizens Assembly on Gender Equality found that gender equality is impossible without addressing violence against women and girls, I will examine how technology and the digital world have facilitated a new, pernicious form of violence to grow, mutate and stealthily attack people, mainly women and girls, in the form of online sexual harm.
Online abuse is now a reality for many. We hear of the vitriolic, scandalous abuse suffered by public figures – again mostly women – from strangers on social media. We know of misinformation and disinformation which distorts reality. But more and more, we hear of the whispered disclosures of intimate image abuse by partners or ex-partners, of children terrorised often by other children, of abuse by those who seek to threaten, to blackmail, to bully.
We hear from people, most often women, who say they have been sent an intimate photo or video without their consent. They talk about having photos or images taken of them covertly, or having shared a photo just with a partner, only to find out that it has been passed to other people – again without consent. As highlighted by An Garda Siochana in its awareness campaign around the issue of 'sextortion', people tell us that they are being threatened and blackmailed with having intimate information, images or clips shared. Or they might be cyber-stalked online - harassed and monitored via online channels in a form of coercion that Is hidden to others, but all too pervasive to the person subjected to that behaviour..
Equally and desperately urgently, the rights of our children and young people, particularly girl children, are being sidelined and ignored by the continued failure of our education system to provide the formation and support that they need to understand where the pornography that they see on their phones – whether they are looking for it or not – is abusive and unreal. Last year, a DCU Anti-Bullying Centre survey of young people reported almost one in five girls had been pressured to send sexually explicit images of themselves and well over a third had received unwanted sexual messages and sexual images.
This year, yet another set of students will sit their exams and leave school, many without the understanding of healthy relationships and consent that would help their development in a positive way. Even worse, they may believe that the abuse and fear and hurt they suffer is normal or is their fault. Next September, young people in second level junior cycle will begin a new programme which should help. The senior cycle will follow in 2024 and later on, primary school children. That's a positive development, even if taken at too measured a pace, for too few young people.
I have focused a lot on young people in this piece, as they are probably the cohort most committed to our digital age. But online abuse is a harm, a problem and a crime that affects people, particularly females, at every age.
Those affected report being frightened, upset and in some cases traumatised by it, with real and devastating impacts on their daily life and relationships with others. Just because these events occur online, over a phone or laptop, does not make them less harmful. Quite the contrary: the hidden and stealthy nature of these harms and crimes often mean that people feel totally isolated and afraid to speak.
Around International Women's Day, when we recognise and celebrate the rights and achievements of women, and spotlight where they still suffer harm and violence based on their gender, we don't have to just wring our hands and wish the internet would go away.
We can bear in mind that there are supports available to anyone who has to suffer this kind of sexual violence. These include the National 24-Hour Helpline with associated webchat which we run at Dublin Rape Crisis Centre. The Gardaí are building their capacity to deal with online abuse as the crime it is, and Hotline.ie works to limit the spread of non-consensual image sharing. Web resources are now available for parents and teachers who want to build their capacity to support children. A Safety Commissioner is to be part of the newly formed Media Commission to help build online standards.
What remains is to be absolutely outraged as a society that anyone would engage in this activity and to call out this behaviour whenever and wherever we get the chance – because it's wrong and it can do real damage.
Most of all, we can recognise that technology and the digital world isn't neutral or objective. It is (so far at least) managed by humans and we can and must recognise that for all the innovative good that it has brought into our lives, we must constantly guard against the exploitation and abuse it has also brought. Like sexual abuse generally, ignoring online abuse won't make it go away. It is through the concerted effort of government, policy makers and all of us who care that we can – we must - limit that harm. Online sexual violence is sexual violence.
Noeline Blackwell is CEO of Dublin Rape Crisis Centre
---
If you've experienced sexual harassment or abuse online:
You can call the 24-hour National Helpline at 1800 778888 for free, confidential support at any time. Webchat support is also available during office hours on drcc.ie
You can report online abuse at any Garda station – a list is available here. Every Garda division now has a Divisional Protective Services Unit which is specially trained to deal with sexual offences.
You can contact Hotline.ie. This is the Irish national centre responsible for combatting illegal content online and has a 93% success rate for removing intimate images.