Comedy fundraiser for DRCC heralds new body campaigning for safer comedy scene in Ireland
15 April 2021
---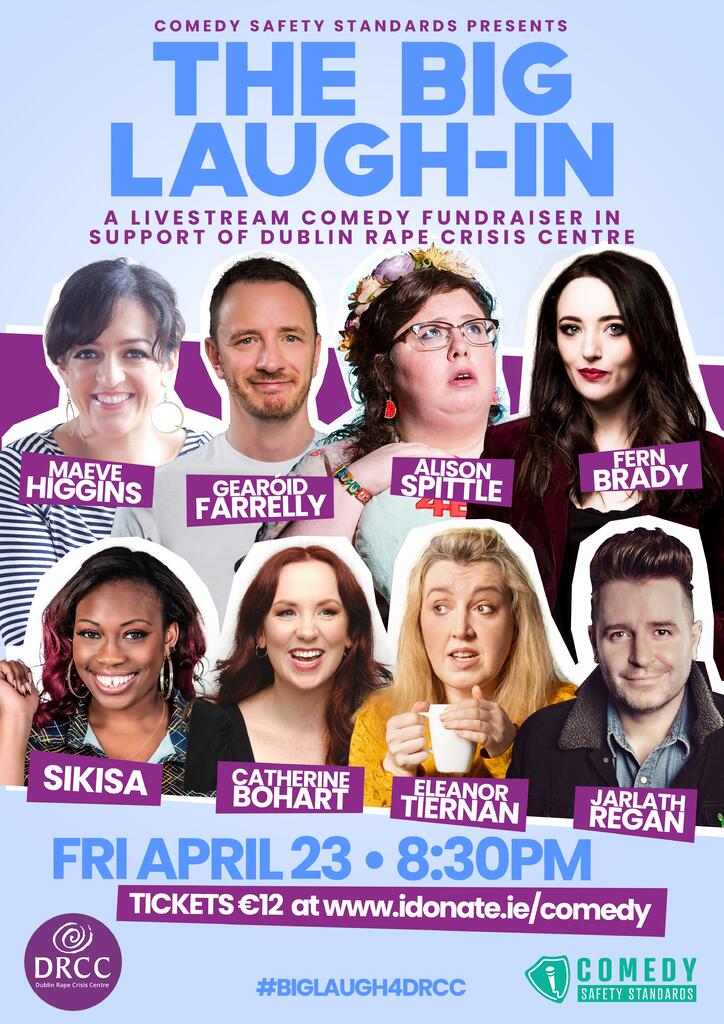 **If you have donated to the Big Laugh-In comedy night on Friday 23 April and HAVEN'T RECEIVED AN EMAIL WITH THE LINK to access the gig, please email events@rcc.ie & we will sort it out for you! **
Press release, 15 April 2021
Comedy Safety Standards, a new group campaigning for a safer and more inclusive comedy scene in Ireland will hold a live online gig featuring some of the biggest names in Irish comedy in aid of Dublin Rape Crisis Centre (DRCC) on Friday, 23 April 2021.
'The Big Laugh-In for DRCC' will include performances from Maeve Higgins, Jarlath Regan, Eleanor Tiernan, Gearóid Farrelly, Catherine Bohart, Alison Spittle, as well as international guests Fern Brady and Sikisa.
The event is organised by Comedy Safety Standards (CSS), a group of comedians who are partnering with DRCC for support and to offer training for performers, agents and venue managers. They want to raise awareness of challenges faced by comics in terms of equality and safety, aiming to create a safer and more inclusive comedy scene in Ireland. The training, which will commence in the summer, will support their mission to raise awareness of the important issues faced by comedians and provide information and support to those involved in the comedy scene.
CSS spokesperson Eve Darcy said "The group was formed out of a collective desire to make the Irish comedy scene a safer, more inclusive and welcoming workplace within which comedians can flourish. We want to be able to work on our craft as comedians in a safe and respectful environment where harassment and assault of any kind is simply not tolerated or allowed to persist as it has."
On the group's origin, Darcy said "The revelations that emerged in the Irish comedy scene in 2020 were the final straw for many of us. There was a strong shared sense that we had to do something to ensure no one else suffered abuse, harassment or assault when attempting to pursue their dream and progress their creativity. We are grateful to those who spoke out about their experiences in the comedy scene- their courage has been a massive inspiration and driving force for us to make the changes that this industry has needed for a long time."
The group's debut fundraising event, The Big Laugh-In for DRCC, is a statement of intent and a look at things to come. "We are extremely grateful to DRCC for offering their amazing support and services. This event is a chance for us to honour their incredible work and raise as much money as we can for their vital services." said Darcy.
Welcoming the event, DRCC's CEO Noeline Blackwell expressed gratitude for the comedy group's support: "We so appreciate that CSS is organising this event, and that they have taken up so comprehensively the issue of harassment and inequality in the comedy sector. They are doing really important work to make the sector a safer place and DRCC will support them however we can in that endeavour."
All the money from ticket sales will go directly to the Dublin Rape Crisis Centre. CSS are encouraging people to give what they can to this worthy cause. Tickets prices start at a donation of €12, and are available online at www.idonate.ie/comedy.
#BigLaugh4DRCC
/ENDS
Notes for Editors:
The Big Laugh-In for DRCC takes place Friday 23 April 2021 at 8:30 pm. Tickets are available for a donation to Dublin Rape Crisis Centre at www.idonate.ie/comedy.
About Dublin Rape Crisis Centre: Dublin Rape Crisis Centre is a non-governmental, voluntary organisation which has as its mission to prevent the harm and heal the trauma of sexual violence. It offers a suite of services to victims/survivors of rape, sexual assault and sexual abuse. DRCC runs the National 24-hour Helpline 1800 778888 for those who need support in any part of the country, with no reduction in service during COVID restrictions. Visit www.drcc.ie for more.
About Comedy Safety Standards: Comedy Safety Standards is a new, performer-led organisation campaigning to create a safer and more inclusive comedy scene in Ireland. They work to provide training for clubs and promoters, raise awareness of the challenges comics face, and give advice to new and existing performers. Their aim is to make comedy a safe and welcoming place for everyone. For more information, contact comedysafetystandards@gmail.com. Follow them on all platforms at @comedysafety.