New research underlines need for reform in operation of rape trials
21 June 2021
---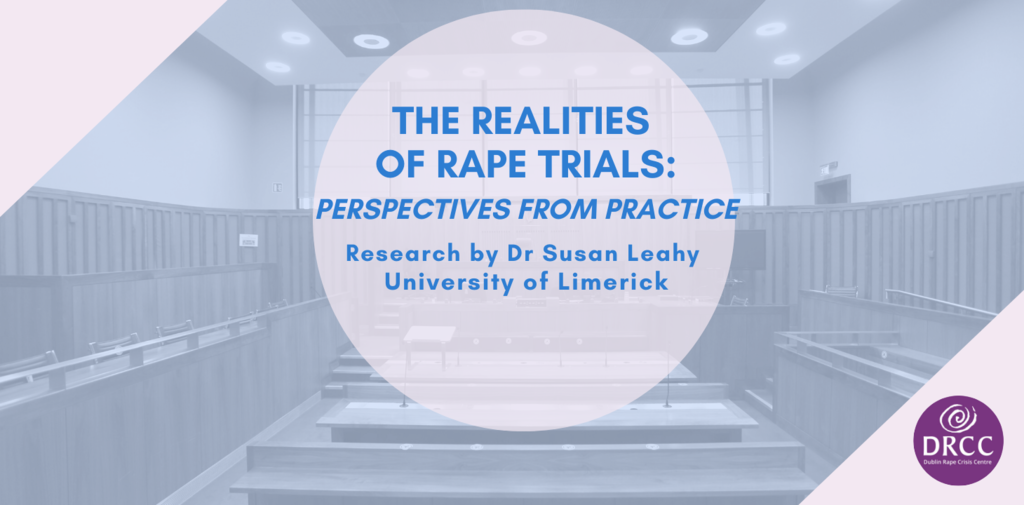 Dublin Rape Crisis Centre (DRCC) today welcomed new research by legal academic Dr Susan Leahy of the University of Limerick that explores some practical perspectives on Irish rape trials. The research is based on the experience and views of legal practitioners and court accompaniment workers involved in rape trials and makes evidence-based recommendations for legal, procedural and policy reforms in how trials are run.
The research findings indicate is that there is still much work to do to deliver best practice in the investigation, prosecution and trial of sexual offences, with issues such as delay and a broad lack of understanding of sexual consent impacting rape trials, as well as the need to reform areas like legal advice and representation for complainants, the focus on complainant's other sexual experience, the use of their counselling records and the level of knowledge that juries have on consent in rape trials.
Noeline Blackwell, DRCC CEO, said: "DRCC welcomes this research which adds considerably to our understanding of the reality of sexual offence trials. It points clearly to the need for a dedicated reporting system which would go beyond media and headline reports but would report on the totality of cases. The report shows that reform of the system is urgent and essential if the rights of all those involved are to be recognised."
Report author Dr Susan Leahy said "I am very grateful to the legal professionals and court accompaniment workers who gave their time to participate in this project. Their views offer an invaluable insight in to the practical operation of the laws and procedures relating to Irish rape trials.
"Developing our knowledge of how the current law is operating in practice is vital in order to understand whether recent reforms are achieving their intended objectives and to identify outstanding issues which need to be addressed within the system," she said.
Dr Leahy presented her findings at an online seminar hosted by DRCC with interventions from Ms Blackwell as well as Katherine McGillicuddy BL and DRCC court accompaniment volunteer Leesha Duffy.
The report is available to download from the DRCC website at drcc.ie

/ENDS
  ***
Notes for editors: 
Dr Leahy's paper and a summary briefing on the research are available to download from the DRCC resource page.
The research was conducted in partnership with Dublin Rape Crisis Centre. Participating legal professionals were recruited with the kind assistance of the Bar Council of Ireland and the Office of the Director of Public Prosecutions. Court accompaniment workers were recruited with the help of Victim Support at Court and Dublin Rape Crisis Centre (DRCC)'s court accompaniment service.
Dublin Rape Crisis Centre is a non-governmental, voluntary organisation which has as its mission to prevent the harm and heal the trauma of rape. It offers a suite of services to victims/survivors of sexual violence.
DRCC continues to operate the National 24-hour Helpline 1800 778888 for those who need support in any part of the country with no reduction in service.
DRCC offers counselling & therapy to clients and provides accompaniment to the Rotunda Sexual Assault Treatment Unit, to court or to Garda stations to people in Dublin and in surrounding areas by arrangement.
Outreach offices at Coolock Civic Centre, Dóchas Women's Centre, Mountjoy Prison, Balbriggan and Tallaght Hospital are usually open at select times, but physical premises are closed during the COVID19 crisis and clients are being supported remotely.  
We ask that when reporting on this topic, journalists should remember that discussions on sexual violence can trigger personal trauma in those receiving the information. Where possible, please make reference to the National 24-hour Helpline 1800 77 88 88 for anyone who may be affected by the discussion. 
Dublin Rape Crisis Centre is one of the frontline services engaged with the Department of Justice & Equality on its #StillHere campaign. The www.stillhere.ie website contains information on supports and services for people affected by domestic violence including sexual violence, as well as digital & online safety and courts, legal aid and advice.