New data underscores urgency of tackling epidemic of sexual violence in Ireland
19 April 2023
---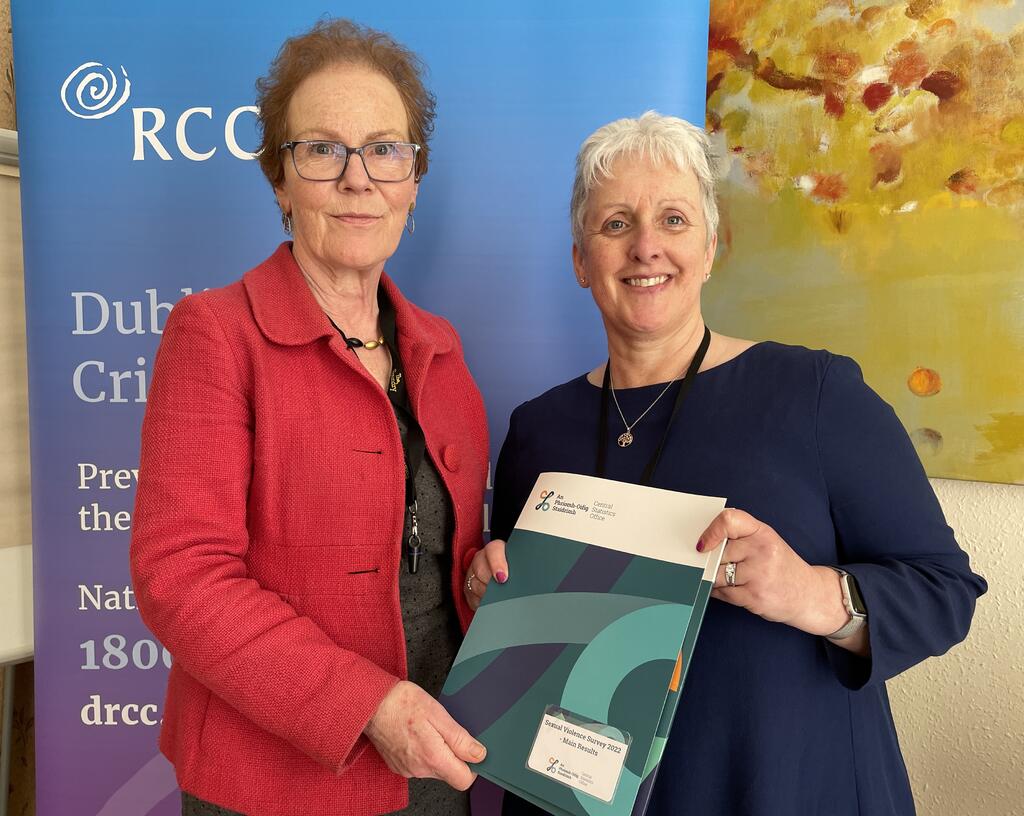 Dublin Rape Crisis Centre today welcomed a new national survey on the prevalence of sexual violence. While it had been too long since the previous survey was done 21 years ago, the Centre acknowledged the great care and thought invested by the Central Statistics Office in producing an insightful and comprehensive picture of the extent and impact of sexual violence on the Irish population.
DRCC CEO Noeline Blackwell said, "we were glad to be able to offer some support to the CSO in carrying out this important survey and finding an appropriate survivor-focused methodology to help identify those impacted by sexual violence, which is often still silenced in our society. It has been far too long since the last survey which led to the SAVI report in 2002, commissioned by DRCC and carried out by the Royal College of Surgeons in Ireland (RCSI). This survey sets a new standard for defining sexual violence on an international level.
"Nonetheless and even if consistent with other surveys, it is shocking to see the level of sexual violence that persists in our society today," she stated.
Some 40% of adults in Ireland have experienced sexual violence in their lifetime, with higher rates among women (52%) than men (28%).

3 in 10 adults had experienced sexual violence as a child
1 in 4 had experienced sexual violence as an adult

Younger people are more vulnerable to sexual violence than older people (52% compared to 27%)
Women reported higher levels of sexual violence than men.

Four times more women (21%) than men (5%) reported experiencing non-consensual sexual intercourse over their lifetime.
Women were almost four times more likely to have experienced sexual violence both as an adult and as a child (23%) than men (6%).
Women aged 25-34 reported the highest levels across all adult sexual violence types.

Most adults (78%) who experienced sexual violence at least once in their lifetime knew the perpetrator, broadly similar between women (79%) and men (75%) and broadly consistent over age ranges.
About half of adults (47%) who experienced sexual violence in their lifetime told someone about it, with disclosure more likely if the experience was with a non-partner-only (55%) than with a partner-only (16%). Women (53%) were more likely to disclose than men (34%).
Professor Hannah McGee (RCSI), lead author of the previous SAVI report joins DRCC in welcoming this report: "The survey today is most welcome, as is its delivery by the Central Statistics Office, signalling the government's commitment to making this topic an important focus of its ongoing population surveillance. Sexual violence is a major population health scourge, as well as a crime, and so regular CSO updates will be important to assess progress on State investment in its elimination".
Ms Blackwell added: "In light of these figures, it is more important than ever that we acknowledge the harm done by sexual violence and continue to provide supports to victims and survivors. Not only that, but we must build a society that recognises the impact of non-consensual activity and works to eradicate it."
Given the extent of the prevalence of sexual violence now revealed, but the low level of reporting of sexual offences, she said DRCC urgently calls on the Minister for Justice and the Government to reform the justice system into one where those who are victims of sexual violence can report in safety and confidence so that they can get justice and perpetrators are held to account – and we have a safer, healthier society.
"The We~Consent movement is dedicated to broadening understanding and practice of consent in Irish society as a cultural change process. There is no excuse for abuse of power, abuse of vulnerable people, or for sexual activity which does not have consent from all parties. If we truly want to see a change, to see less harm in our society, we need to do something about it – we encourage everyone to take the time to talk about consent."
For anyone impacted by sexual violence, at any time, the 24-hour National Helpline offers free confidential support at 1800 778888.
Comprehensive information on options is also available online at drcc.ie/fyw
/ENDS
***
Notes for editors:
Dublin Rape Crisis Centre is a non-governmental, voluntary organisation which has as its mission to prevent the harm and heal the trauma of rape. It offers a suite of services to victims/survivors of sexual violence. It also offers a wide range of training and education to professionals and volunteers.

DRCC operates the National 24-hour Helpline 1800 778888 to support anyone affected by sexual violence in any part of the country. A webchat support service is available online at drcc.ie Mon-Fri, 10am-5pm. A Helpline Interpreting Service is available for those who do not speak English - more at https://bit.ly/DRCClang
For those contacting the Helpline who are deaf or hard of hearing, we provide a text service, operating Mon-Fri from 8am to 6:30pm, at 086-8238443 and we also have a webchat service available Monday-Friday, 10am to 5pm, except holidays.
Information on your options after sexual violence is available for free online at any time at drcc.ie/fyw in the Finding Your Way after Sexual Violence guide.
DRCC offers counselling & therapy to adult survivors of sexual violence and to older adolescents from 16 years of age with parental/guardian consent.
We provide accompaniment support for the Rotunda Sexual Assault Treatment Unit, to court or to Garda stations to people in Dublin and in surrounding areas, by arrangement.
We have outreach offices at Coolock, Dóchas Women's Centre, Balbriggan & Tallaght. Access to these services must be arranged via the National Helpline 1800 778888 during working hours, Mon-Fri.

We ask that when reporting on this topic, journalists should remember that discussions on sexual violence can trigger personal trauma in those receiving the information. Where possible, please make reference to the National 24-hour Helpline 1800 77 88 88 for anyone who may be affected by the discussion.