#Unite4Consent
17 November 2022, 11:00am - 15 December 2022, 6:00pm
---
Marking #16days of Activism with art celebrating consent, activism, women & community
This year, Dublin Rape Crisis Centre is marking the annual worldwide 16 Days of Activism against Gender-Based Violence from 25 November to 10 December by collaborating with six well-known Irish artists to create prints that celebrate consent, activism, women and community.
The 16 Days campaign focuses on violence against women and girls. While gender-based violence impacts all genders, women are disproportionately the victims/survivors of it. In Ireland, 81% of callers to the National Rape Crisis Helpline in 2021 were women (DRCC 2022).
The artists contributing to the #Unite4Consent campaign are Orlaith de Burca, Laura Duffy, Sarah Hegarty (aka 'Vadge of Honour'), Eibhin Kavanagh (aka 'Rotten Rouge'), Ciara Kenny (aka 'Ciaraíoch') and Bronagh Lee (aka 'BuntiLee').
The prints will be on sale via the artists' websites - links below! - from 17 November to 15 December 2022 with a percentage of sales going to support DRCC's work and vital services.
How can you get involved?
Follow us on our social media platforms and on TikTok, check out the #EndViolenceAgainstWomen hashtag.
Spread the word about our #Unite4Consent campaign – start the conversation, share this page!
Donate to support our vital work by buying a print or donating directly
Learn more about our services for yourself or for anyone who might need them.
All these actions help us with our ultimate aim of creating a better, safer society. Thank you for your support!
We remind everyone that the National 24-Hour Helpline is there for anyone who needs support or information at any time – call 1800 77 8888 for free, non-judgmental and confidential support.
Meet the artists and their wonderful work! You can visit each artist's page by clicking on the artwork - you can then purchase the print and support DRCC. Please share to spread the word!
---
Orlaith De Burca
'A Chéile Print'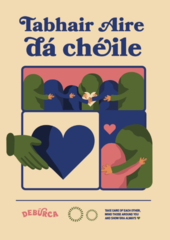 Orlaith is an illustrator and designer based in Limerick. She is passionate about Gaeilge and the joys of human interaction, which is what her work is centered around. Her main goal is for her artwork to connect people and brighten their day!
Orlaith says "This piece is about showing support and caring for those around you, something that means a lot to me. As women we need to mind each other and lift each other up. This campaign is so important, consent is something that needs to be talked about as much as possible and I'm delighted to bring any awareness to the topic."
---
Eibhin Kavanagh
'Rotten Rouge'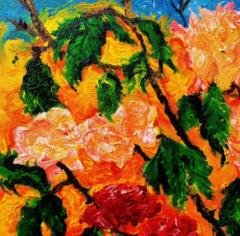 "I am a Dublin based artist, I paint my pieces inspired by Dublin and nature. I like to create unique hand painted pieces ranging from clothing to ceramics and traditional canvases.
This piece is inspired by roses in my garden, they have been growing since I was a child. They were looked after by my parents but I now do the most gardening in our family house. Each winter they are cut right back, but then every spring they come back bigger with stronger and more colourful blooms, and I think there is nice symbolism in this."
---
Sarah Hegarty
'Vadge of Honour'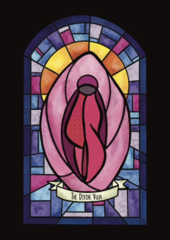 "I am a graphic designer / illustrator, originally from the lovely and beautiful Cork. I started Vadge of Honour to educate myself and to create a safe space for people to normalise taboo topics. My main goal is to mix humour with acceptance but plaster it with body positivity.
For me I think celebrating bodies of all shapes, sizes, ability and colour is important. But as we celebrate it is equally important to learn to respect boundaries. Learn about body language, learn that silence is not consent and that NO means NO!"
---
Laura Duffy
'Unite for Consent'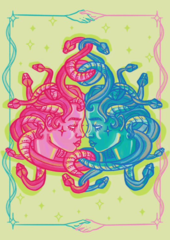 "I am an independent Artist and Illustrator working and living in Dublin. By designing funky and eye-catching prints that are packed with saturated colour and warm tones, my work is often threaded with strong positive messages of empowerment, dealing with subject matter such as body acceptance, self-love, and healing. I believe art gives us a way to connect to others in a way words sometimes can't.
Inspiration behind the Medusa Print: I've based this piece on the symbol of Medusa as it has been reclaimed in recent years as a symbol of sexual assault survival. According to many retellings of the Greek myth, Medusa was cursed with snakes for hair and eyes that turn men to stone as a punishment by the goddess Athena after Medusa was raped by Poseidon in Athena's temple, making her story one of the oldest examples of victim blaming in pop culture. Today, Medusa is considered by many as a protective symbol and provides a sense of empowerment, resilience, and strength to survivors of sexual violence.
Unfortunately, many of us know a survivor of sexual violence in some form as it is an issue that affects us all and so I've created an image of two Medusa figures uniting together to heal, support, and uplift each other, just as we all must do for each other.
---
Ciara Kenny
'Ciaraioch'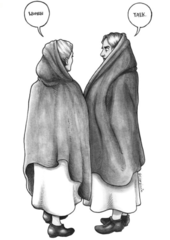 "I am a cartoonist and illustrator from Kerry, working with traditional mediums - most of my work is created with pencils, ink, watercolour paints, or lino carvings. My work is inspired by Irish folklore and mythology, Irish history, feminism and the history of women in Ireland, Irish rebels, wildlife, nature, and humour.
This piece was created to reflect the power of whisper networks, and women quietly looking out for, warning, and protecting other women from harmful people. As someone who has been shaped as an artist and a person by feminism and by the work and community of women, the campaign really struck a chord with me. A lot of the work I've made has been a reaction to issues around violence against women, so I'm really glad to be able to support a campaign that focuses on the issue of violence against women and girls."
---
Bronagh Lee
'BuntiLee'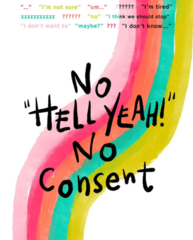 "I'm an independent artist and illustrator based in Dublin, Ireland. I graduated from NCAD with a degree in fine art printmaking and then continued to study Graphic Design. I tend to merge these two backgrounds together for my artwork in various ways.
My work is often inspired by nature, people, and the world around me, educating people about consent, empowering people to take control over their own body and to help people who have felt taken advantage of not feel like it was their fault just because they didn't say "No" as no comes in many shapes and forms."
---