DRCC Christmas Holiday opening times 2021/22
21 December 2021
---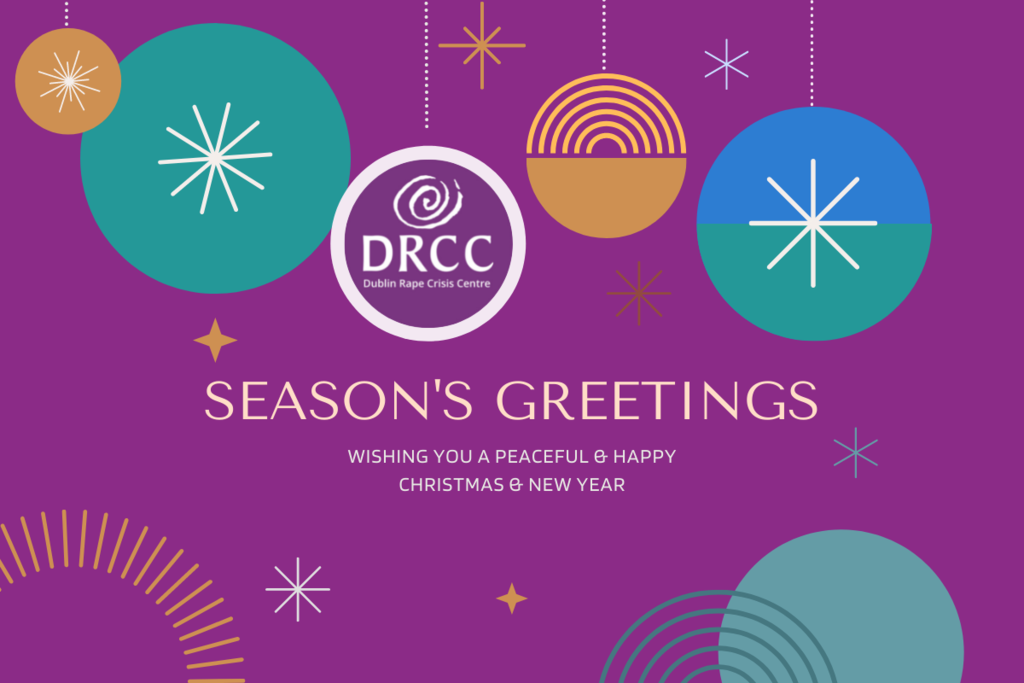 The Staff & Board of the Dublin Rape Crisis Centre wish you and yours a very Happy & Peaceful Christmas.
While Christmas can be a very special time for so many, we know this time of year as well as higher pandemic restrictions may be very difficult for victims/survivors of sexual violence.
Please remember that no matter how recent or how long ago the abuse or assault, support is available from DRCC, from other Rape Crisis Centres & Sexual Assault Treatment Units around Ireland and from other support organisations.
Dublin Rape Crisis Centre is here & ready to help anyone who needs support in the aftermath of sexual violence.
The National 24-hour Helpline 1800 77 8888 is open throughout the holiday period – you can call at any time for free & confidential support & information.
DRCC's physical premises in Dublin 2 will be closed from Thursday 23 December. However, our office will be open (virtually) with staff working from home on some days over Christmas & New Year.
Opening Hours for Christmas & New Year 2021/2022
Note that the National Helpline 1800 778888 will not close over Christmas.
December 2021
Monday 20 – Thursday 23 December Services as normal 9am-6pm
Friday 24 December (Christmas Eve) Centre closed
Saturday 25 December Christmas Day Centre closed
Sunday 26 St Stephen's Day Centre closed
Monday 27 December Public Holiday (for Christmas Day) - Centre closed
Tuesday 28 December Public Holiday (for Stephens Day) - Centre closed
Wednesday 29 – Friday 31 December Services operating remotely 9am-5pm
January 2022
Saturday 1 January Centre closed
Sunday 2 January Centre closed
Monday 3 January Public Holiday (for New Year's Day) - Centre closed
Tuesday 4 January *Normal service resumes
Webchat
Our webchat support will close for the holidays at 2pm on Thursday 24 December. It will be open 10am to 2pm from Weds 29 to Fri 31 December, before closing for the New Year break. It will resume on Tuesday 4 January 10am to 2pm as usual.
*The arrangements above are subject to change depending on government guidelines on Covid 19 & public health.
Other services
**Please remember that we are here to support you through this difficult time – and please pass the word on to anyone who might need our help**