Cooking Up a Storm for Annual Fundraiser – In Aid of the Dublin Rape Crisis Centre
25 May 2020
---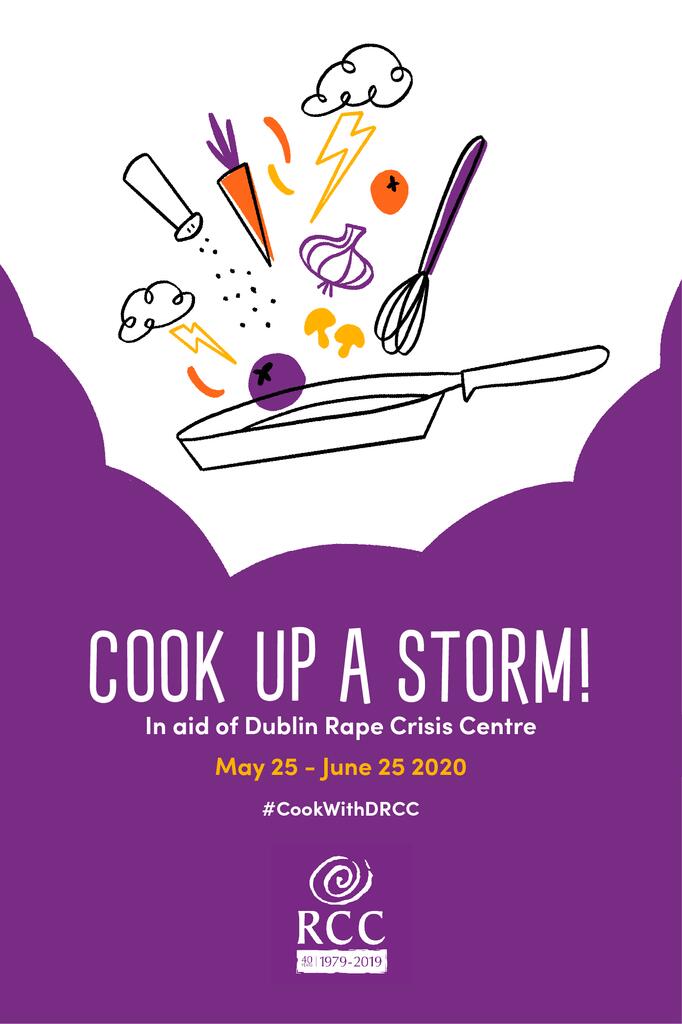 With her 25th Annual International Charity Fashion Lunch cancelled, following many years of successful fundraising for the Dublin Rape Crisis Centre (DRCC), Miss Candy is flipping her high heels and feather boas for pots and pans with her designs now set firmly on Irish kitchens. Cook Up a Storm, an online culinary fundraiser, is being organised by Miss Candy, aka Joseph Supple, and headlined by Michelin Star Chef Derry Clarke and his wife and partner Sallyanne to deliver a feast of recipes to people's homes and raise much needed funds for the DRCC.
Cook Up a Storm aims to feed into the nation's current appetite for home cooking and baking along with the demand for new, chef-approved tried and tested recipes, family favourites and nostalgic childhood recipes to replicate at home. Headline chef Derry Clarke will cook one of his favourite dishes each week over the series with videos posted to his own Facebook page and DRCC Facebook Page.
Beginning today Monday May 25th and running across four weeks, Cook Up A Storm will also star some of the nation's favourite personalities including, Rosanna Davison, Amanda Brunker, David & Stephen Flynn – Happy Pear twins, Sir Ian Botham, Andy McFadden, John Healy, Rebecca Storm , Ken Doherty, Paul Harrington, Dylan and Charlotte Bradshaw, Lorraine Keane Cathy Kelly, Tracey Clifford, Norma Sheehan, Luke Thomas, Jim McCabe, PJ Gallagher and Jake Carter to name a few who will be posting their videos of favourite dishes to the page and across their own social channels, while viewers will be invited to do the same and nominate their friends
To those donating to and interacting with the campaign, Miss Candy has pledged her legendary line up of fantastic prizes. This year amongst the prizes there's the chance to win a week in the stunning Aqua Suites in Lanzarote for two people half board, a Blue Book Voucher to the value of €500, a €200 voucher for L'Ecrivain, Stay At Home Supper Club dinner for four people kindly donated by John Healy from Sussey Street and a designer piece by award winning fashion designer, Catriona Hanly. Links to an idonate page, managed directly by the Dublin Rape Crisis Centre, will allow anyone to make donations to the charity fundraiser. www.idonate.ie/cookupastorm
Speaking about the campaign, organiser Joe Supple said "While I am truly devastated that my 25th Annual International Fashion Lunch has to be cancelled this year due to Covid 19, I am delighted to garner the ongoing support of so many friends and businesses and bring Cook Up A Storm to fruition. The focus now is on making this campaign as successful as our sell out fashion lunch is each year, to provide a stop gap for 2020 to ensure we generate these vital funds for the charity and allow them to continue their ongoing work and support of victims of sexual assault and rape."
Dublin Rape Crisis Centre CEO, Noeline Blackwell, said "Miss Candy's splendid Cook Up A Storm fundraiser is truly vital for us in this year when so much of our public fundraising had to be abandoned or put on hold because of COVID19. We always need public generosity to keep vital services going for those who have experienced rape and other sexual abuse. This year, we have heard from victims of sexual violence who are deeply traumatised by isolation, loneliness and the lack of their normal supports and escape routes. We expect that we will hear from even more than before when restrictions ease. We are glad that we have been able to keep services going steadily throughout the lockdown but we worry about the funding we will need to continue to do that. That's why this fundraiser is more important than ever and we thank Miss Candy for this fabulous glamorous alternative event."
Miss Candy's annual fundraising has generated in excess of €2.5 million in charity funding to date. While this year's initiative will see a temporary swap from gladrags to chef's hat and pinny, this series will be open to an even bigger audience, with everyone invited to take part. To join Derry and celebrity friends in mixing, baking and creating a stir for the DRCC, visit and like the DRCC Facebook Page and follow the links to donate. Stay in touch via the page for fantastic recipes with great prizes to be won for the duration of the series.
Facebook: https://www.facebook.com/dublinrapecrisiscentre/
Twitter: https://twitter.com/DublinRCC
Instagram: https://instagram.com/dublinrapecrisis?igshid=seldgse6geuq
Make sure to use #CookwithDRCC and tag us in your social media!
For further information, please contact Rebecca Burrell in Burrell Marketing & Publicity on (087) 2239377 or rebecca@burrell.ie