Calls to Rape Crisis National Helpline reach highest ever level in 2022
18 October 2023
---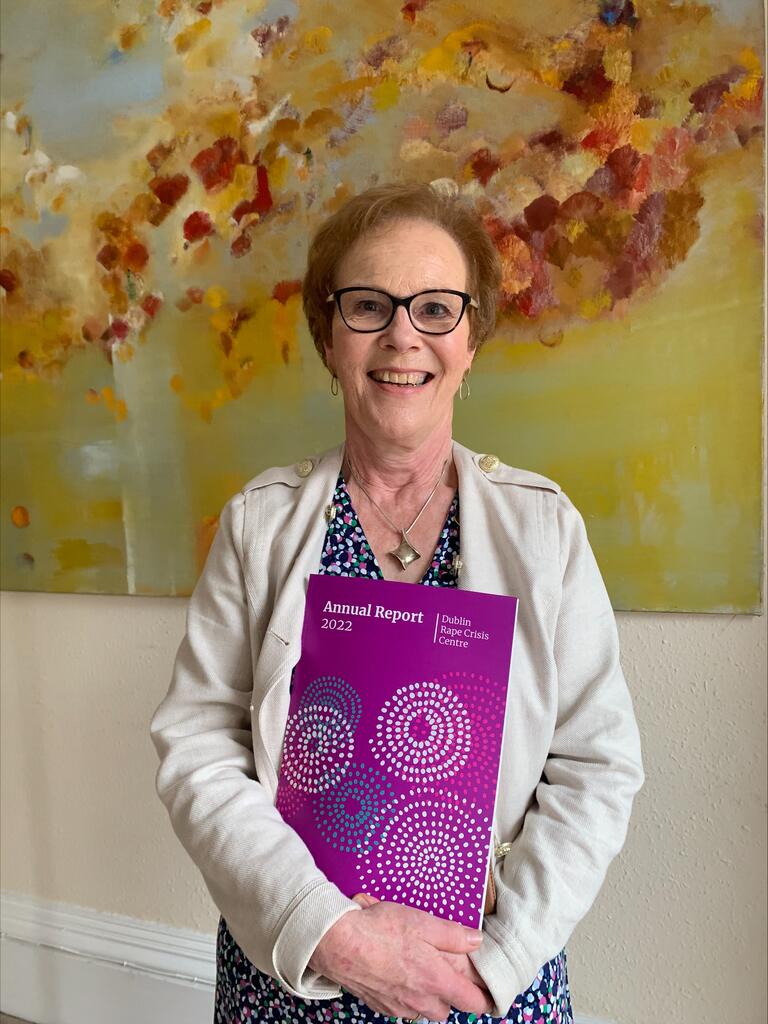 Calls to Rape Crisis National Helpline reach highest ever level in 2022
Dublin Rape Crisis Centre supported 18,400 people on the National Rape Crisis Helpline in 2022, a 31% increase over the previous year and the highest level ever reached on the line - a sign of the vast need for support for those affected by sexual violence across the country. This figure and other data are detailed in DRCC's annual report which will be launched in Dublin today (Thursday 19 October) by Minister for Children, Equality, Disability, Integration and Youth, Roderic O'Gorman TD. You can read the full report here.
The report shows most contacts with the freephone National Helpline in 2022 were female at 84%, while 15.7% were male and 0.3% other. The largest age cohort was 18 to 23-year-olds who formed just over a fifth of contacts to the line, followed by people in their forties at just under a fifth. The 31% increase in calls included a substantial increase in calls to those on DRCC's therapy waiting list, up 63% on 2021 to 3,009, which the Centre says was accounted for by a significant difficulty in recruiting sufficient therapists in 2022.
Among DRCC therapy clients, over 93% of whom were female in 2022, some 62.2% had experienced sexual violence as an adult, while 37.8% had been abused as children. Rape was the most common form of sexual violence experienced as adults for DRCC therapy clients at 38.4% (along with marital rape at 6.93%), followed by sexual assault and sexual harassment.
There was a substantial increase in DRCC's accompaniment support work in 2022, organisation supporting 331 people in justice settings, up almost 30% over 2021, while it provided emotional support to 291 survivors seeking forensic /medical treatment at the Sexual Assault Treatment Unit in Dublin – an increase of 153% over 2021 - along with 233 of their family and friends.
DRCC's Chief Executive Noeline Blackwell, who steps down as DRCC's CEO at the end of October, said the report was a testament to DRCC's breadth of work last year. "2022 was a year that started with the terrible killing of Aisling Murphy, which affected so many people, and ended with cruel stories of child abuse in schools sparked by the Blackrock Boys documentary. In 2022 people were resuming 'normal life' after the restrictions of COVID. Our report shows people - many of whom faced serious mental health, economic and other challenges - were able to seek support on the National Helpline. Others found the time and courage to consider reporting sexual violence or seeking justice in courts or other fora. Despite our limitations including difficulties in recruiting therapists, this report shows we in DRCC – staff and volunteers - were privileged to be there for them offering support and healing."
Speaking ahead of his launch of the report, Minister Roderic O'Gorman said: "I commend Dublin Rape Crisis Centre for their vital work throughout 2022. Their Annual Report clearly sets out the breadth of that work, and how it provides such strong support to people who experienced sexual abuse and sexual violence. For our part, the Government has placed a focus on combatting domestic, sexual and gender-based violence, through the new Third National Strategy, the establishment of a dedicated Agency for domestic and sexual violence, and the introduction of paid leave for victims of domestic violence. I look forward to continue working closely with DRCC as we prioritise these actions."
DRCC Chairperson Ann Marie Gill noted "In 2022, DRCC worked on large-scale initiatives to prevent sexual violence, including building We-Consent, a long-term national campaign to engage with people on the meaning and practice of consent launched in spring of this year. We were pleased to see that the Government's launch of its current national Strategy to end tolerance of sexual violence includes a vision of a society where consent in sexual activity and behaviour is understood and practised. We have been pleased to partner with the Department of Justice in advancing that vision and we look forward to the day when sexual violence is reduced or eliminated because our society fully understands consent in this context." She added: "This is especially vital given our modern society where the capacity for abuse is amplified by technology to perpetrate intimate image abuses including deepfake abuse."
DRCC trained 630 people across 57 courses & events in 2022 on issues around sexual violence. It provided policy analysis on a wide range of topics from state compensation for crime victims and Garda responses to abuse, to workplace harassment, and to the Council of Europe on Ireland's international obligations to combat sexual violence.
The report is available to download from DRCC's website here
Anyone affected by sexual violence can contact the 24-hour National Helpline for free, non-judgmental and confidential support at 1800 778888.
Comprehensive information on options for survivors is also available online at drcc.ie/fyw
/ENDS
***
Notes for editors:
DRCC's annual report for 2022 will be available to download at www.drcc.ie from 5pm on 19 October 2023.
Dublin Rape Crisis Centre is a non-governmental, voluntary organisation which has as its mission to prevent the harm and heal the trauma of rape. It offers a suite of services to victims/survivors of sexual violence. It also offers a wide range of training and education to professionals and volunteers.
We-Consent is a new long-term national programme to inform, educate and engage with all members of our society about consent. More information and resources on having consent conversations at https://www.we-consent.ie/
Other DRCC services and work:
DRCC operates the National 24-hour Helpline 1800 778888 to support anyone affected by sexual violence in any part of the country. A webchat support service is available online at drcc.ie Mon-Fri, 10am-5pm. A Helpline Interpreting Service is available for those who do not speak English - more at https://bit.ly/DRCClang
For those contacting the Helpline who are deaf or hard of hearing, we provide a text service, operating Mon-Fri from 8am to 6:30pm, at 086-8238443 and we also have a webchat service available Monday-Friday, 10am to 5pm, except holidays.
Information on your options after sexual violence is available for free online at any time at www.drcc.ie/fyw in the Finding Your Way after Sexual Violence guide.
DRCC offers counselling & therapy to adult survivors of sexual violence and to older adolescents from 16 years of age with parental/guardian consent.
We provide accompaniment support for the Rotunda Sexual Assault Treatment Unit, to court or to Garda stations to people in Dublin and in surrounding areas, by arrangement.
We have outreach offices at Coolock, Dóchas Women's Centre, Balbriggan & Tallaght. Access to these services must be arranged via the National Helpline 1800 778888 during working hours, Mon-Fri.
We ask that when reporting on this topic, journalists should remember that discussions on sexual violence can trigger personal trauma in those receiving the information. Where possible, please make reference to the National 24-hour Helpline 1800 77 88 88 for anyone who may be affected by the discussion.