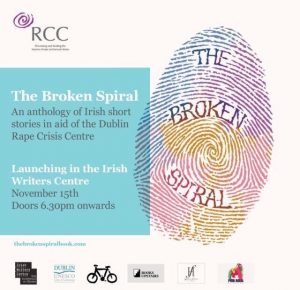 The Broken Spiral is an anthology of short stories by Irish authors in aid of the Dublin Rape Crisis Centre. The project was named for the DRCC's symbol, which is emblematic of the winding, re-winding and often circuitous journey towards healing those who have experienced trauma face.
Proceeds from sales of The Broken Spiral will raise much-needed funds for the centre, but also act as a restorative to survivors of trauma who have spoken out and survivors who remain in silence through the redemptive power of storytelling. The aim of the collection is to bring hope to the reader, and to re-establish a belief that healing can, and does, happen.
Click here for more information on the wonderful authors who took part in this fantastic project and to find out where to purchase.